A Q&A with a Stockton grad, Buddhist monk
by MAXWELL REIL, Press of Atlantic City, Nov 14, 2017
Atlantic City, New Jersey (USA) -- Bhante J was an Ocean County resident for all of his life before he decided to attend Stockton University to study anthropology.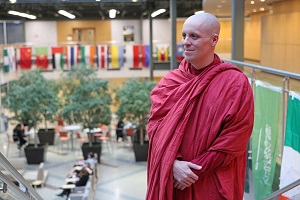 << Joe DeNise aka now Bhikkhu Jayasara, or Bhante J, a Stockton grad who will converted to be a Buddhist monk. Nov. 13, 2017 (Craig Matthews / Staff Photographer)
But after he graduated college in 2001, he spent the next few years converting to Buddhism, attending retreats in Princeton and the Bhavana monastery in West Virginia, until fully moving to the monastery in 2014.
Now, Bhante J, born Joseph DeNise and also known by his fellow monks as Bhikkhu Jayasara, is returning to Stockton on Tuesday to discuss his journey of becoming a monk at Stockton's A Taste of Mindfulness event.
We sat down with Bhante J to learn more about his conversion and what he wants people to know about becoming a monk.

Question: Tell us about your early life growing up.
Answer: I was pretty much born, raised and lived in Ocean County my whole life in Toms River. The only times I ever left Ocean County is when I went to Stockton. I'm pretty much born and bred in South Jersey.
Q: How did you end up at Stockton? What did you study?
A: I started Stockton in 1998 and graduated 2001. I did a year at Mercer County Community College first and then transferred to Stockton, where I studied anthropology. Really, what I loved most about Stockton was it was a small, cool, personal school in the Pine Barrens. I couldn't see myself at a big place like Rutgers, and I just felt like Stockton had real personality. And, because of the small group of kids living on campus, it was this small community and a very comfortable school, and I really enjoyed my four years there. They were some of my best years of my life.

Q: How did your journey to becoming a Buddhist monk happen?
A: It was way further down the road after graduation. I've been a Buddhist now for 10 years as of this coming May. But before that I was raised Catholic and Stockton was actually the only public school I ever went to. By the time I was 16, I knew (Catholicism) wasn't for me. Due to my love of culture and humanities, I learned a lot about a lot of different religions. From the age of 16 to 29, I considered myself a student of all religions and a participant of none. But there was something about Buddhism. I joked that if someone put a gun to my head I'd choose Buddhism but didn't feel I needed to allow any spiritual path in my late 20s. My desire was to have a spiritual aspect in my life and by that time I had been to mosques, Jewish temples and even had friends who were Wiccans. I pretty much tried everything available to me and once I turned spiritual I knew Buddhism was it. I then delved into learning about it. Like most people, most Westerners, my first contact with Buddhism was with the Dalai Lama. I got into Buddhism and learned there were all kinds of Buddhism. I explored different kinds of Buddhism and, for me, it was Theravada Buddhism, which is described as the oldest and most orthodox version.
Q: Where did this journey take you geographically?
A: I practiced meditation for 10 years before I came to live at the monastery. The closest place around here was one in Princeton that had Friday night meditations. I would drive an hour to Princeton and meditate there. But I visited a place called Bhavana in West Virginia for the first time in 2011. I would go there a couple times a year. After that I started going every three to four months. I worked in child protective services with the state, so I would take a four-day weekend and go down there. It kind of became my home and it's where I really found a place where I was able to learn from somebody equipped to teach Westerners. It actually ended up being a four-year process of gradually lessening my load in life and preparing to be able to renounce and go to the monastery to live and become a monk. I moved there in September of 2014.
Q: What was the biggest culture change when you moved to the monastery?
A: I would say the biggest thing was food. Buddhists don't eat after 12 p.m. for the most part, unless for health reasons, we don't eat after noon. Some traditional monks eat one meal a day, some eat two. I did that at retreats and lived by that regard and so that was a big adjustment for me because I had weight loss surgery in 2011 and was almost 400 pounds prior to that. That weight loss surgery left me with a small stomach and a stomach a little more prone to digestive issues than my old stomach. I grew up Italian and ate mostly Italian and Western food. Trying to adapt and cope with a lot of food that I didn't grow up with - often beans, rice and Shrilankan food. Food in general was the biggest thing. Even after three years, I'm much better and adapting but it's still not an easy thing. Food is usually a big thing. As Westerners you can go to the local Wawa but all of a sudden I wouldn't eat after 12 p.m. The other thing for me was I was a big video game player and that and eating was coping for me and made me feel good. So the other thing is kind of adjusting to not being able to have these old coping mechanisms.

Q: What should people expect with this lecture on Tuesday?
A: On my end, what I'm teaching is the practice of mindfulness. When most think of meditation, they put a time aside and sit on a cushion and try to empty their mind. That is a type of meditation, but that's not the type of meditation we're going for. Mindfulness is developing the habit of having the awareness of what is going on with your mind or body, whether sitting on a cushion, or in a car or at work. So one of the things I like to do when I talk to people is share with them my experiences and get them into practicing mindfulness while having a career and busy life. What we're going to do is teach that mindfulness while eating, while walking, while meditating, and you can practice this in any place no matter what you're doing. It's something people can implement in their daily lives. You don't have to meditate an hour a day but you can implement it in small doses. It's building a positive habit, and like any habit you need to start small and you can be consistent and it can then snowball.