Spiritual Tea Breaks: The interviews with Ven. Dr. K. Sri Dhammananda from June 2001 to February 2002
By Lim Kooi Fong, The Buddhist Channel, August 20, 2018
Kuala Lumpur, Malaysia – From June 26, 2001 to February 16, 2002, Lim Kooi Fong interviewed the late Chief Ven. Dr. K. Sri Dhammananda Maha Nayaka Thera (lovingly addressed as "Chief") in his office at the Buddhist Maha Vihara, Kuala Lumpur. The interviews, six altogether called "Spiritual Tea Breaks with K Sri Dhammananda", was an effort to compile thoughts of the late venerable in preparation to commemorate his 50 years of Dhammaduta, which was observed in 2002.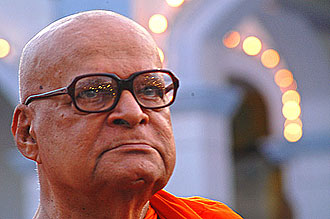 In most instances, there were no specific agenda planned for the interviews. Even when a certain agenda was on the plate, unexpected events would appear and derail everything. As such, the interviews tried its best to capture what was happening in the moment. It could the expression of an impromptu thought that was off-topic, or someone would have just walked in the room and stole the Venerable's attention.
Below are excerpts of some gems captured during the eight months spent exclusively with Malaysia's most famous monk.
How did God arise?

(Interview date: June 26, 2001)
"The other day, I was invited to attend an Interfaith dialogue. After the talk, someone asked a question, "How did God arise?" No representatives from the other religious group offered to answer first. I thought: If I were to explain the Buddhist view, many would be confused, as many in the gathering were non-Buddhists. And so I asked back a question: "Which came first, the chicken or the egg"? and that settled the matter".
On women and Bhikkunis (nuns)
(Interview date: July 18, 2001)
"Recently I read in the Bangkok Post (5th July, 2001) reporting that two Thai nuns are leaving their home country for Sri Lanka so that they could be ordained. Just think: women have already become Presidents of countries. Why can't they become nuns? Instead of advancing efforts to enhance understanding of the Dhamma, some Buddhists seem to be held back by outdated traditions and beliefs. And we shouldn't blame others for saying Buddhism is backwards because we have not helped ourselves to be forward thinking."
Chief on the United States 9/11 attacks
(Interview dates: September 13 and October 10, 2001)
"I cannot comment too much from the religious point of view because it is a political issue. What I can say is that the perpetrators are heartless and mindless. What sort of mind have these people developed? How far have they come to develop such cruelty where so many innocent people have died for nothing? No sane mind, religious or otherwise, would contemplate on such cruelty. No true religion would sanction such barbaric actions. These people have no compassion, no virtues and have taken advantage of religion to justify their cruel acts.
In the Dhammapada, the Buddha says "Hatred will not be overcome by hatred". But people forget to cite the last line in that verse. It says, "This is the eternal law." If we were to fight hatred with anger, there will be no stop to this vicious cycle. Military retaliation is not the goal. Whether injustice or violence or war happened during Buddha's time or in New York today, if we confront anger with anger, we will only bring more grief, and create new cycles of violence. This law is eternal."
The need for religion
(Interview date: October 10, 2001)
"In our material pettiness and tolerance of immorality, we tend to lower the standard of religion for our own convenience, for our own comfort. Religion advises us to do things we don't like, while we like to do things religion disapproves. And so, little by little, day by day, we get accustomed to immoral subtleties until we become numb to it. We continue to slumber in this make belief world of permanence and certainty until tragedy strikes, and we are rudely reminded that life indeed is impermanent and uncertain.
That is why there is Buddha. They appear to remind us of the existing Dhamma which we have forgotten. Other living beings follow the law of nature, whereas because we humans are clever we tend to go against it. That is why religion is needed to control us, to tame our raw instincts. No matter how clever we are, we cannot fight nature."
On the true spirit of Buddhist education
(Interview date: November 6, 2001)
"All the Buddha did throughout His life was to point people towards realizing reality. But all people realized at that time – and even now, has been just conventional understanding.
Conventional views are not reality. Let me give an example. Regular people refer to chest pains as 'heart attack'. But to a doctor, it is referred to as 'cardiac infarction'. Such definition enables entirely different type of approaches in prescribing the cure.
A trained cardiologist will utilize all available equipment and do numerous tests to pinpoint the exact problem. Now that's an analogy to differentiate between conventional knowledge and wisdom. Heart attacks are not cardiac infarctions, so therefore book knowledge is not mental development.
In Sanskrit, the word 'vidya' means learning with the main purpose of being disciplined. It is an active process where one learns something, and then uses it to interact and behave properly towards oneself and others.
Sad to say, people today have neglected the deeper aspects of education. Nowadays, to be educated means to acquire some skills, which may be of use for commercial and industrial purposes. The material aspect of education is emphasized. The spiritual side is side stepped.
The young are taught in school how to memorize facts. When they learn Buddhism, they apply the same method. They are not taught to relate learning with discipline. And so it is not surprising that some of today's youth get into so much trouble."

On being Chief and the future of Buddhism in Malaysia
(Interview date: February 16, 2002)
In the final instalment of the interview, I asked Chief this question:
People say that you are a hard act to follow. There could well never be a Thera who would be accepted by all the major Buddhist traditions (Theravada, Mahayana and Vajrayana) both in Malaysia and Singapore in the near future. What advice would you give to the coming generations with regards to the further development of Buddhism here and in the world?

And here is how he answered:

"You cannot say that whatever I have done will be something which is difficult for others to follow. All this comes down to just one thing – communication. I cannot speak Chinese, or Tibetan and my Malay is just passing. Somehow if we sincerely speak the language of the Dhamma, most people will understand that.

Remember, not too long ago the knowledge of Dhamma in this country was so bad that very, very few people knew about the life of the Buddha. Today, even some five years old children know about it. Once upon a time, going to temple meant to only worship and offer prayers. Today, we go there to learn about the basic teachings.

We must ever keep in mind that learning the Dhamma is not about gaining book knowledge. It is not something we put into memory and then use it for public debate. The true and real purpose of learning is to gain personal development, of enriching the minds and cultivating the spiritual side of our being.

Above all else, Buddhist education is more about moral and spiritual development. If the coming generation can appreciate this, then Buddhism will have a bright future in this country".
---------------

The compilation of the excerpts above are specially arranged as part of the contribution towards the
K. Sri Dhammananda Centenary Celebrations
to be held at Asoka Hall, Buddhist Maha Vihara, Kuala Lumpur from 31st August to 2nd September, 2018. Lim Kooi Fong is currently the Founder and Managing Editor of the Buddhist Channel.