Australian football star finds his journey serene one
by Jenny McAsey, The Australian, September 9, 2005
Sydney, Australia -- IT was the sort of questionnaire today's footballers find buried in their locker every second week.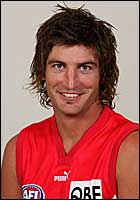 To feed the insatiable public appetite for inside information, they have to list trivia such as: favourite food, best footballing memory, dream dinner guests, what they watch and what they read.
But the answers from Sydney's lion-hearted midfielder Brett Kirk weren't the smart-aleck fare often served up by players tired of the intrusion.
Asked what he was "working on", Kirk replied: "practising Buddhism in my everyday life".
There are 350million Buddhists in the world, but it is a fairly safe bet only one of them is an AFL player.
For the everyday life of Kirk, as a professional footballer, requires some acts that might not immediately appear to fit with the basic tenets of Buddhism.
Take his textbook bone-rattling bump on West Coast Eagles defender Drew Banfield in the first quarter of last Friday night's qualifying final.
As Banfield moved towards the ball in Sydney's attacking zone, Kirk tucked in his shoulder, braced and collected his opponent in the stomach.
Banfield reeled back, Kirk scooped up the loose ball and blasted away at the goalposts (he hit one of them).
It was an inspiring piece of contested play, one that lifted his team and certainly accorded with the basic doctrines of football.
But how does a heavy bump meld with the advice from Buddha to abstain from harming living beings? Kirk, a modest man who, it has to be said, is reluctant to discuss his religious journey, chuckles and has a ready reply.
"I guess when you go out there you put your body on the line for your team-mates," Kirk said. "I was just going after the football and there is not a great deal of me, so I was just happy to come out the other side. I wouldn't deliberately go out to hurt anyone."
In fact, Kirk may be the ultimate Buddhist living a life of sacrifice. As a midfielder who wins more of the hard balls than anyone else in the league, he works his heart out for the greater good of the team and knows first-hand that all living beings must suffer.
But by now the mop-haired Kirk will be embarrassed by the analogy, so let's focus on the religion of football.
The wise men who select the All-Australian team left him out of their best 22 this year despite a season that, on the numbers, was just as good if not better than 2004 when he made the grade.
According to Champion Data statistics, Kirk is the king of the contested ball, a freak able to free the footy from a snarl of thrashing arms and legs more often than any of the other 600 AFL players. When it comes to clearing the ball from throw-ins and ball-ups, no-one is better.
On average in the AFL, 34.6 per cent of possessions are won in a contested situation. Kirk earns 46 per cent of his that hard way.
Once categorised as a tagger who just negated others, Kirk still does that but also snares the football more than any other Sydney player.
As well, for the third year in succession, he has laid more tackles than anyone in the competition.
A dogged hunter, he has evolved into a most productive gatherer.
There was suffering along the road. His former team-mate Daryn Cresswell, now an assistant coach at Brisbane, remembers Kirk as a struggling rookie-listed player. "He actually painted my fence at one time when he needed money. It is just as well he has become a good footballer because he wasn't much of a painter," Cresswell said.
"In some ways he has surprised me with how far he has come. But he reads the play extremely well. He is not the quickest player but he is very good around the stoppages, and now he has been released a bit more to win the footy."
Ross Lyon, assistant coach at Sydney in charge of the midfield, said the development of young Swans onballers such as Luke Ablett had freed Kirk a little this season, though being accountable was still his first priority.
"He is a very smart footballer. He has an enormous engine, he never stops," Lyon said. "He is prepared to change his game for who he is playing on. When I left today he was doing research on about three different Geelong players. He physically prepares really well and he does his homework on the opposition. It's not luck."
Lyon doesn't know about Buddhism. He believes Kirk's success stems from a strong work ethic that was instilled by his close-knit family during his childhood in Albury.
Any way you look at it, Kirk is not your average footballer -- or person.
He said yesterday he was not at all disappointed he didn't get rewarded with an All-Australian jumper. Beating Geelong before a full house tonight at the SCG is what he really wants.
"I never expect to be in it, it was fantastic that Leo (Barry) and Barry (Hall) were in it but at the end of the day, every one of us plays for team success," Kirk said.
"We've got a side that plays for each other, and every week we play finals-type football, really hard and high intensity stuff so the guys are really looking forward to the match."