Korea: Head of the Chogye Order Dies
By Bae Keun-min, Ryu Jin, Hankooki Staff Reporters, Sept 12, 2005
Seoul, South Korea -- Rev. Bub Jang, executive director of administration of the Chogye Order of Korean Buddhism, died of a heart attack early Sunday morning. He was 64.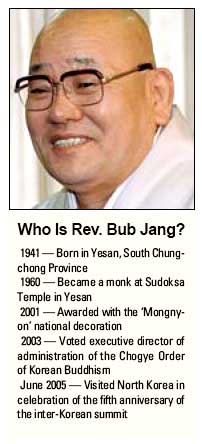 The Chogye Order, the nation's largest Buddhist order, said yesterday that the monk passed away while recovering from heart surgery he had undergone Sept. 5 at Seoul National University Hospital in central Seoul.
After five days of condolences, Bub Jang's funeral will be held Thursday at Chogyesa Temple in Seoul and his cremation ceremony will take place at Sudoksa Temple in Yesan, South Chungchong Province, later that day.
Bub Jang, who was born in 1941 in Yesan and became a bonze there in 1960, led the nation's largest Buddhist order since February 2003.
The Buddhist reverend is recognized as the most active leader of the religious body and his involvement has enhanced inter-Korea relations. In May, he visited Iraq to console the Korean soldiers of the Zaytun Unit in Irbil, northern Iraq, accompanied by a team of 17 special delegates of the nation's Buddhist leaders.
In his visit to the United States in May, he handed over a letter to U.S. President George W. Bush, in which he called for the peaceful resolution of North Korea's nuclear issues. He became the first head of the Chogye Order to visit the North in mid-June to attended events celebrating the fifth anniversary of the inter-Korean summit.
He has also been actively involved in the rehabilitation of convicts and organ donation campaigns, with the establishment of the foundation in 1994.
His efforts for peace and virtue were honored with several awards, including the `Mongnyon' national decoration in 2001.
President Roh Moo-hyun, who is currently on a three-nation tour in Central and North America, expressed his condolence in a message, speaking highly of the monk's achievements and moral excellence.
``I express my sorrow over the demise of the Great Reverend Bub Jang,'' Roh said in the message, paying tribute to the virtuous and charitable deeds he performed during his lifetime.
``The Great Reverend has left precious teachings by living up to Buddha's mercy in real life,'' he added. ``He also contributed greatly to inter-Korean reconciliation and cooperation through such activities as his recent visit to the North.''
Buddhism is the largest religion in South Korea.