Venerable Professor Dhammavihari: A pen sketch of a remarkable teacher
BY EILEEN Siriwardhana, Lanka Daily News, Sept 19, 2005
Colombo, Sri Lanka -- He emerged from the sidedoor and strode on to the stage at King George's Hall, University of Colombo. Slightly built, dressed in well-tailored trousers and coat and wearing a well selected neck tie. His hair, parted in the middle and well combed back, not one out of place. With one sharp penetrative look through his thick rimmed spectacles, there was total silence in the hall.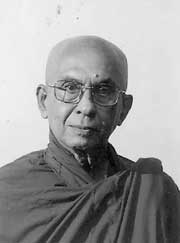 As freshly enrolled undergraduates of 18 and 19 years at the time, our stay in the University were just a few days old. Most of us who came from remote areas of Sri Lanka were still getting accustomed to our new environment, looking around with a kind of wonder at everything and everybody, including the massive, imposing University buildings.
We had just submitted our Pali tutorials. Our lecturer Jotiya Dhirasekera, commenced talking in a crisp, precise manner, commenting generally on our submissions.
We were greatly impressed by his manner and listened with inspirational awe at his ability to clarify a deep dhamma point with a few simple illustrations bringing to our minds the simile of the closed box. The contents of the box are brought to view by simply taking off the lid.
The teacher-pupil relationship which the Buddha exalted as a sacred bond, continued throughout the years. We could rely on him for advice, counsel and specially for guidance in matters relating to the Dhamma.
These rare qualities of head and heart which students absorbed from Dr. Dhirasekera were no doubt due to the genuine appreciation and approval of his own mentors of whom he spoke with great respect and affection, making special mention of Professor G.P. Malalasekera and Professor O.H. de A. Wijesekera.
Majoring in Sanskrit and obtaining a First Class in the final examination, he was taken aback when Professor Malalasekera requested him to join the Pali Department. Dr. Dhirasekera had said, "Sir, I have majored in Sanskrit. I have done only two sections in Pali. Will it be in order....?".
"Don't be too clever, man. I know what I do." With these words of Professor Malalasekera. Professor of Pali and Dean of the Faculty of Oriental Studies, he decided to throw in his lot with the Department of Pali. So young Dhirasekera had been given an Assistant Lecturer's post in the Department of Pali.
My teacher told me the moment his revered Guru, Professor Malalasekera invited him join the teaching staff of the University, his mind flew back instantly to the little boy of twelve years who had done all his studies up to standard five in the medium of Sinhala in the village school of Rahula Vidyalaya in his hometown of Tangalle in the deep South.
Having come from a rural background and a cultural milieu hitherto uncontaminated, and living in close association with the temple, he found himself now in an elevated position, in the highest seat of learning in Sri Lanka.
At the end of his three years' teaching in Colombo, Professor Malalasekera came up with the magnificent idea that on his probationary study leave the young lecturer should proceed to the University of Cambridge.
Hearing of this, Sir Ivor, the Vice Chancellor, fully endorsed the suggestion, particularly in view of the plans to establish a residential university in Peradeniya in the near future.
He felt the need for the younger teachers of the University here to get to know more about and get accustomed to the scope and content of residential life in a University.
Regarding the area of his studies and research abroad, Professor Malalasekera had thought that he should study languages like Chinese and Japanese, along with history of Buddhism in those countries.
This, he had visualized would be the best foundation for an International School of Buddhist Studies in Sri Lanka. It is this same line of magnanimous thinking which prompted Professor Malalasekera in later years to found the World Fellowship of Buddhists.
This change of direction, of course, meant for young Dhirasekera that he would have to return after two years without a Ph.D. But courageously he accepted this. Even after fifty years, my teacher is ever grateful to his Guru for this change of direction.
He tells us that some of the brilliant result of his Buddhist research in later years would never have been possible without an ability to read Chinese sources in their original.
He also says with conviction today that the opportunity of being with world renowned authorities on Buddhist studies like Sir Harold Bailey of Queens' College, Cambridge, to which he himself belonged, was a great stimulant in his intellectual pursuits.
In the company of personalities like that, he said he was reminded of his life in universities like Taxila in India under Disapamok Achariyas who treated their pupils with loving care and magnanimity.
Life in the residential university at Peradeniya from the year 1952 onwards turned out to be a very chequered one, both to the student and the teacher. It was also challenging.
In 1969, then 48 years old lecturer Dhirasekera proceeded to Canada on his sabbatical leave, on the invitation of Professor A.K. Warder whom he had known since 1959, to teach Buddhism at the University of Toronto.
Professor Dhirasekera's success at the University of Toronto continued unhindered. After a few years, resigning from the delightful position, he enjoyed in Toronto, he decided to return home to Sri Lanka, for as he says the Sun in the Sri Lanka skies would always offer him a warm welcome.
Prof. Malalasekera exceedingly happy that this carefully groomed pupil was in the island for good, pleaded that his pupil stays in this country and serve the cause of Buddhist learning and research which both had shared during an earlier phase of their lives.
The Guru, who at the time was the Editor in Chief of the Encyclopedia of Buddhism, called upon his pupil with confidence to assist him in the task.
Professor Malalasekera had always visualized the vastness of the project. The printed version of the Encyclopedia by then had gone beyond the letter B, the last article being on Caurvidhvamsana nama dhara.
The Guru was sharp enough to ask his pupil, so reports my teacher, as to who should be invited to write the article on Zen. The pupil was completely taken by surprise and he politely replied that Z was the last letter in the English alphabet.
The teachers' equally polite, but forceful advice was for us to take a more telescopic view of life. The pupil left his Guru at 4.30 p.m. with the joy of reunion in his heart, with the parting words "see you soon again, Sir".
But, it was never to be. By 8.00 in the night this great stalwart of Buddhist learning in Sri Lanka and this giant of a national leader breathed his last.
Kanso upahato yatha, like unto the end of a bronze gong that had cracked in two. These were the sad words with which my teacher summed up this unforgettable situation.
Prof. Dhirasekera gave his best to the project, writing numerous new articles, revising with meticulous care articles hitherto written.
He departed, leaving behind to the Buddhist Encyclopedia the legacy of the new logo which he created, with the dharma-cakra and its accompanying laudatory remarks of the divinities of the ten thousand world system (dharmmacakkam pavattitam appati-vattiyam) written around it.
This new logo of Dhirasekera's creation now retrospectively adorns the cover pages of the entire Encyclopedia from its very beginning, even of the reprinted earlier volumes. He was wanted elsewhere.
The Postgraduate Institute of Pali and Buddhist Studies of the Kelaniya University was in need of a Director.
The Chairman of the U.G.C. invited Professor Dhirasekera to accept this position. Considering from all angles the needs of the day, he accepted it. Considerably enriched with his recent experience at the University of Toronto, he completely re-visualized what a Postgraduate Institute of Buddhist Studies in Sri Lanka should be.
He restructured it and threw open its doors to students from all departments of study like Medicine, Science, Engineering etc. to pursue Buddhist studies and do research there in fields connected with Buddhism.
In planning the courses of study for the Institute, he never lost sight of historical priorities; original Indian Buddhism of Sakyamuni Buddha first, with whatever associated research needed and only thereafter its development in Sri Lanka or China or anywhere else as one chooses.
With a carefully planned Diploma courses first for all, and insisting on very high standards of performance, students were enabled to acquire with minimum delay all prerequisites needed for the diverse research programs.
Very soon, the new Director courageously moved the Institute to the city of Colombo for greater accessibility. Among its first students in the new set up were eminent Buddhist monks, theologians, doctors of medicine and a few foreigners.
Possibly, many more great things were yet to be done. But at the age of sixty-seven, Professor Dhirasekera was glad to hand over the reins and disburden himself.
In the quietude of his retirement, as he looked at the country and its people at large, he saw turmoil all around. While living in solitude in Galle, the silence of one misty morning was disturbed by the arrival of an official who brought him an urgent message from the Chief Minister of the area, requesting him to take charge of the Ruhuna University as its competent authority, on the resignation of the Vice Chancellor during the youth unrest.
"Enough is enough," he said to himself, and further: "Heavenly messengers have appeared on the scene. It is now for me to renounce. "Patubhata devaduta, pabbajja samayo mama".
This was the moment of decision and this the moment of action; the culmination of an idea which had been fermenting within him, perhaps through Samsaric existence.
Within days he was in the depths of the Bowalawatta forest hermitage in the Hantana hills, well above the Peradeniya Campus where he and his family had lived for eighteen years. But now he had turned a forest dweller-a vanaprastha.
He had to wait patiently there for six months as a pabbajja aspirant, looking forward to the return from America of the Most Venerable Madihe Pannasiha Maha Nayaka Thera to seek his ordination under him. On May 18, 1990 the day dawned for this silver-haired Upasaka Dhirasekera with an extra glow in the sky.
On this great day in his life, a little after breakfast, he sat on a low seat in a quite room in the Bowalawatta Araoya Senasanaya, and a senior monk cut the first lock of his silver hair and delivered into his hands.
The moment he set his eyes upon this lock of silver grey hair, he tells us, he firmly resolved, May I never see the likeness of this again till I reach my goal in Nirvana.
He was the only novitiate to be ordained this day, and within an hour he came back to his well-wishers who had filled the Dharma Sala at Bowalawatta to its capacity.
In their midst was also the new monk Dhammavihari once belonged. The concluding remark in his inaugural sermon that day was, I am so glad that whenever and whatever I left, the choice has always been mine.
That vibrant lecturer who once strode into King George's Hall now in saffron robes walks with quiet dignity and speaks from a different platform.
Then he addressed a small gathering of students assembled in a University hall. Now he addresses the world. His voice is as full of vitality at age 83 as it was then. He is ready to address any assembly on Buddhism irrespective of nationality, caste or creed.
He is forthright, speaks with firm conviction, and with a veracity of Judgement.
He is invited to speak at numerous fora, nationally and internationally. No one, whatever may be their social, religious, national or international status, is exempt from his sharp and critical observation.
In his own words, "Wherever I go as a student of Buddhism I am ever watchful to safeguard the authenticity of my Master's words."
In a world where many and conflicting interpretations of the Truth confuse and confound, this approach of my remarkable teacher takes on a crucial significance.
---------------------
Ven. Prof. Dhammavihari felicitation ceremony
SRI LANKA Association for Buddhist Studies (SLABS) will be holding a felicitation ceremony at the Sri Lanka Foundation Institute (SLFI) at 5 p.m. in appreciation of the valuable contribution made by Ven. Prof. Dhammavihari to the Buddha Sasana and to the cause of Buddhist Studies in Sri Lanka and abroad.
A felicitation volume compiled by the Ven. Theras, students, colleagues and friends will be presented to him on this occasion.