Franklin Park woman follows chosen path to become Buddhist priest
By Kathleen Ganster, Post Gazette, September 29, 2005
Pittsburgh, PA (USA) -- It's something that most women would find difficult to do, but for Margaret Coghlan, shaving her head was a wonderful experience. It symbolized a step in her ordination as a Soto Zen Buddhist priest.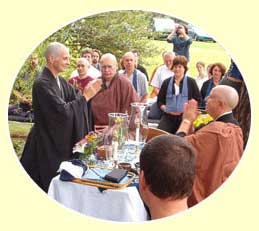 << Ordination of Jisen Coghlan on Sept 18, 2005 at the Pittsburgh Deep Spring Temple
Coghlan, of Franklin Park, was ordained Sept. 18 at the Zen Center of Pittsburgh Deep Spring Temple in Bell Acres, the only Zen center in the Pittsburgh area.
Buddhist priests shave their heads as a statement that they will forgo material belongings.
Coghlan, 51, will keep her head shaved for at least a year.
She will continue working as a physical therapist at UPMC Passavant in McCandless. As a Buddhist priest, she can perform weddings and funerals and she will work with the Rev. Kyoki Roberts, the priest at Deep Spring Temple.
Coghlan's ordination marked the culmination of years of study. After she began studying Buddhism, becoming ordained seemed a natural progression for her.
"I went to a Tibetan monastery in Nova Scotia in May of 1995, and when I left there, I was advised to study Buddhism. I took that spiritual advice to heart," she said.
She began studying with a small group in the Pittsburgh area called Still Point, then in February 1996, she began studying with Dai-En Bennage, a priest in Pennsdale, Lycoming County.
She studied with Bennage until 1999. "It was late summer when he said, 'Do you know there is a Zen priest moving to Pittsburgh?' I started studying with Kyoki then," she said.
She doesn't remember precisely when she decided to become ordained herself. "I don't know if it was a specific moment. I grew into it," she said.
Three years ago, Roberts asked her to go to a Zen center in San Francisco for three months to "look inside myself for a commitment," and last year, the two decided Coghlan would become a postulant. According to Roberts, Coghlan has taken her studies very seriously.
"It takes years of study. I have worked very closely with her, and she will continue her studies as well," she said.
"You are a postulate for a least a year before you are ordained. I moved slowly towards ordination," Coghlan said.
---
More information on Pittsburgh Deep Spring Temple is available at www.prairiewindzen.org or 412-741-1262.
---
Roberts performed the ordination of Coghlan before about 90 people of different faiths, including sisters from the Order of the Divine Providence in McCandless and sisters from Mount Alvernia in Millvale.
"I have been close to the sisters for so long, it was important that they could attend," Coghlan said.
Roberts was assisted by the Rev. Nonin Chowaney, the abbot of Roberts' order, Prairie Wind. "He came in from Nebraska on Saturday and left on Sunday just so he could be here," Roberts said.
The head shaving took place the afternoon before the ordination ceremony. Coghlan said Chowaney recommended the shaving be done the day before because it can take a long time. "There is a special ceremony, and it has to be reshaved," Coghlan said. "I had short hair anyway, but it still took some time."
Some of Coghlan's co-workers were at the ceremony.
"It meant so much to me to have my peers there. I was really grateful they could be there," she said. "I've worked there 15 years."
Her husband, Kevin, and her mother also attended. "They have both been so supportive. I was happy that my mother could attend and the ceremony would mean something to her, too," she said.
Another important step of the ordination process is bestowing a Buddhist name on the new priest.
Roberts gave Coghlan the name "Jisen."
"It means compassion of the spring, the type of spring that comes up from the ground," Robert said.
"She has so much compassion that she displays."