Monk to Build Buddhist Temple in Hungary
By Park Chung-a, The Korea Times, Nov 9, 2005
Seoul, South Korea -- Hungarian monk who was a disciple of the late Korean Zen master Rev. Seung Sahn will build a traditional Korean Buddhist temple. In preparation for the construction, Rev. Chong An came to Korea on Tuesday with five technicians to gain information on the architecture of Korean temples.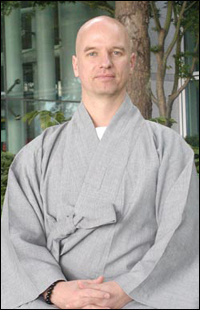 << Ven. Chong An
Born in Budapest, Chong An worked as an interpreter after graduating from a prestigious university. But when he met Seung Sahn during the late monk¡¯s visit to Hungary in 1989, Chong An was enchanted by Korean Buddhism and came to Korea to become a monk, carrying out six years of ascetic practices.
Chong An returned to his home country in 1999 and has been focusing on spreading the spirit of Korean Buddhism in not only Hungary, but other European countries as well, such as Russia, Poland, Austria and Czechoslovakia, through ascetic practice and Buddhist writings.
The temple, which will be named Wongwang-sa, will be located on 12 acres of land on a mountain, and a one-hour car drive of Budapest. An additional 8 acres, including a cave, as well as a promenade, will be established for visitors.
Construction will begin next year and is to be completed by 2008, according to Yonhap News Agency.
``Korean temples should be simple, functional and clear," he said. The construction will minimize the use of concrete, using wood as the main material. It will also utilize ``ondol," a traditional Korean floor heating system.
After visiting various Korean temples across the nation, Chong An will also participate in a memorial ceremony to mark the first anniversary of the death of Seung Sahn, who was the Great Zen Master of the Chogye Order of Korean Buddhism.