Enduring Love
by Jolie Nash, The Guardian, November 18, 2005
Currently serving a six-month sentence in a Californian drug rehabilitation clinic, Courtney Love tells Jolie Lash about her latest attempt to get her life - and her career - back on track
Los Angeles, CA (USA) -- Courtney Love is in rehab. She has no new album, no movie in the cinemas, no book on the shelves. In the past, she has released four albums (three with Hole and 2004's solo record, America's Sweetheart) and appeared in a little fewer than two dozen films, but like Salvador Dalí and Oscar Wilde before her, she seems to see her life as a work of art: as important as what she creates.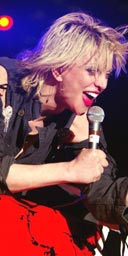 << Courtney Love performing in 2004
Photograph: Scott Gries
I meet Love on a balcony overlooking the California-skimming Pacific Ocean. A breeze teases the flame of a candle she's placed on the patio table. Before we begin, she dashes off into her bedroom. It's lightly shambolic, littered with a pair of jeans, scraps of paper, stacks of novels and self-help books and three guitars. She emerges with a vase of roses and places it on the iron table to her right, a pack of Camel Lights in front of her.
"I've had nothing but time in here," she says of her stint in rehab. As a result she has been furiously songwriting, creating new music she'll later dub The Rehab Demos. She lists some of the titles: The Depths of My Despair; My Bedroom Walls; Sad But True; How Dirty Girls Get Clean. "There's not a lot of activities. You have to make your own fun and my fun is my guitar so I'm down to it and I have to really question what it is I do for a living. Primarily I do two things: I act and I sing, and if I don't do those things well then I don't know what my objective is."
She has netted eight songs so far, in part thanks to a visit from songwriter Linda Perry, who helped on America's Sweetheart and was responsible for Pink's Mizzunderstood. Perry gave her a Martin-brand acoustic guitar six weeks ago, a gift Love says made her weep with joy.
"I just sort of lost faith in myself last year. Getting dragged off to Bellevue [notorious New York mental institution] in front of the whole f***ing world, it can really zap a person's confidence. I don't know of anybody else that's a celebrity that's done it other than Marilyn Monroe."
She was signed into that hospital under 72 hours of observation on July 9 2004, her 40th birthday. Hours before, she failed to show up to an arraignment on an alleged assault charge in Los Angeles and a warrant was issued for her arrest.
In the days leading up to Bellevue, Love says she sat in her loft worrying about two things. The first was why she was being charged with assault. The second concerned recently discovered paperwork - receipts and statements that seemed to document some $20m (£11.5m) of her and daughter Frances Bean's money that she says was siphoned off over a period of five or six years. Over the past two years she has spoken of the missing money in several interviews and attempted to get it investigated by state and federal organisations.
"That's now been taking care of and gone to the right authorities, but at the time I was freaked out. I was on a lot of coke and I was in my loft by myself and I was going fucking crazy and was totally suicidal," she says, puffing at a cigarette.
Love's lack of relationship with her parents has been well documented - estrangement from her mother for almost a decade, her father even longer. Who did she have to call in the situation I wonder?
"For a long time I had this fantasy - as unstable as it sounds - that my husband was going to come back from the dead and save me," she says, her tone growing quiet as she mentions Nirvana's Kurt Cobain. "That's not going to happen and I know that, but ..." She turns her eyes away and takes a heavy, lengthy breath.
REM's Michael Stipe was one of the people who helped her turn things around. The other was her lawyer (and former executive for Universal Studios) Howard Weitzman, who has worked for free to resolve her legal issues: a misdemeanour for being caught high, two felonies for possessing two pills without valid prescriptions and the alleged assault. "Until he came onboard, I was going to be hopelessly lost in a legal system," she says.
While she waited for resolution, a sort of which came in February of this year when was put on probation, Love dabbled in songwriting. Getting her film career back on track wasn't as easy.
"I was really sober and I just got fat and I couldn't work," she recalls despondently. "Being fat is one of the worst things that ever happened to me. I was taking one particular [prescription] drug, which is supposed to calm you down. The side effect was it put 40 pounds on me in a matter of eight weeks."
Paparazzi pictures of her on cigarette breaks outside substance abuse meetings didn't help. She blames fellow attendees for tipping off snappers. She clearly had a dysfunctional relationship with others in her group, who often came to her when they were feeling weak. "I'd sit at a meeting and I'd say I feel like doing blow today and all of a sudden there'd be a line of people that wanted to do drugs with me and it would be like 'Relapse?' 'Let's call Courtney.'"
Love eventually did relapse once this past summer. A judge then sentenced her to six months in prison, which she is allowed instead to serve in rehab. But before that happened she found herself in the tabloids once again - this time for having a fling with the comedian Steve Coogan.
"I thought he was a great guy and he was very inspiring, too. I thought he was maybe the smartest person I'd met in 10 years, and I told him things that I haven't told anybody in my whole life. And he was really a good dancer. " She says she wasn't aware of the huge tabloid interest in him when they met. "What I'd like to do is shake hands with that guy and square off and apologise."
During her time in rehab, Love says she's lost more than two stone, returned to writing, vowed to quit smoking and is planning eventually to unburden herself from reliance on any sort of prescriptions. She credits these personal successes to her return to Buddhism.
"That's the trick. That's the ticket," she says doggedly. "When I was 24 I was a Buddhist and that was responsible for the success of Hole in the first place and [helped] after Kurt died. Right around the time I did The People vs Larry Flynt I started chanting and then I stopped. This is the third time I've really committed myself. I really got pushed to the wall and I realised I have to rediscover this tract of Buddhism to rediscover myself."
She has also been discovering new music. Love famously championed the Strokes early on, plucked Melissa Auf der Maur out of obscurity and gave a leg up to countless bands along the way. I ask who's she's buzzing off at the moment. She says the new Strokes song "isn't that great", but she is enjoying bits from Kings of Leon, Goldfrapp, the Icarus Line, Maximo Park, Ladytron and one very new band.
"I really, really like the Duke Spirit," she says of the female-fronted London five piece, who released their debut Cuts Across the Land last May. "It's a chick who obviously writes her own lyrics, which is hugely progressive for this day and age. I just don't see ads for females in bands and it's very depressing. It's like Steps or something. The nightmare that is Steps is just taking over!"
The sky is now dark. There is an orange glow reflecting off the sea from an oil rig lighting fixture. With the wind almost hasty, Love wraps herself in knitting, though I'm unsure whether it's a blanket or just a gigantic shawl. I decide it's time to ask her about her daughter, who appeared in US young women's magazine Teen Vogue a few months ago.
Love says it resulted rather unexpectedly in the 13-year-old being approached by the producer behind Monster for the lead in an indie flick, which the teen turned down due to sexual content, among other things. Like her mother, who plans to return to the film world next year (starring in the Linda Lovelace biopic), Frances has the acting bug. She regularly stars in school productions and hopes to go to Yale drama school.
For now, Frances is back in school, tackling her tortuous teen years, where they begin to define their relationship with their parent and develop their tastes. No, says Love, she hasn't tried to influence her daughter's musical leanings.
"She went through a Blink-182 phase and she loves Green Day," Love laughs. "She's a typical 13-year-old and she's on the fence about whether I'm cool or not. But I think she's coming down on the side that I am pretty cool."