Thai tennis sensation hopes penance helps tour performance
by MICKY AIGNER, Indian Express, Jan 6, 2006
While Paradorn finds his peace of mind, rivals are caught off guard

Bangkok, Thailand -- His new avatar is not limited to the clean-shaven appearance. Paradorn Srichaphan has changed his on-court behaviour — the pumping fists are almost invisible — and, as the man himself says, his mindset too is different.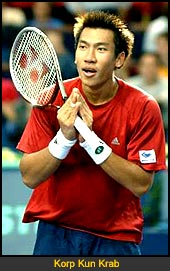 It's certainly a novel way of befuddling his opponents. ''It's dangerous'', says arch-rival Carlos Moya, who's more used to the aggressive version. ''You never know what to expect.''
The clue to his transformation lies, of course, to his week-long stint of penance at the Thung Sethi Temple in Bangkok, where he traded in his racquet for a begging bowl and lived as Maha Viro, a name that translates easily for us.
That stint was brought about by two factors: One, a Thai tradition of honouring one's parents. ''Every Buddhist has to do this once in his life'', Pardorn told The Indian Express today.
The other reason was more temporal; a successful 2004 was followed up by a heel injury and an indifferent season last year, which included a break-up with his coach T J Middleton. The solution, he thought, was a spell away from the real world.
To outsiders it may have seemed like a media spectacle, a shaven-headed Paradorn providing a perfect photo-op, but he says it was much more than that. ''I knew what I was doing and why.'' To give up worldly pleasures and live as a monk meant living in isolation, cut off from the world in more ways than one.
''The schedule was tough, very different to my regular regimen.'' Monk's habit, to begin with, in place of his tennis gear; a day that began at 4.30 am with meditation. ''That was something intense but quite soothing for a first-timer like me. Then, at 7.30 a.m., I was going around collecting food and eating it. No meals around noon made the situation tough because I have an erratic eating schedule.''
But the upside was mental peace. ''Meditation taught me to be calm in every situation'', he said, adding that in his heart he knew that monkhood somehow, sometime, would be beneficial to his game. ''Yes, the tour is getting tough, I'm getting older by the day and anyway I'd advise everyone to experience this feeling.''
Then jokes, ''You've got to be Buddhist first.''
One last question: The initiation was some time ago, why the shaven look even now? ''I like it'', he says. ''That's why I've shaved my head three times already!''