Thai tennis star benefits from meditating as monk
AP, Jan 11, 2006
SYDNEY, Australia -- Far removed from the world of overhead slams, whistling crowds and jet travel, Paradorn Srichaphan turned to a simpler life: 4 a.m. wake-ups and long hours of fasting and meditation.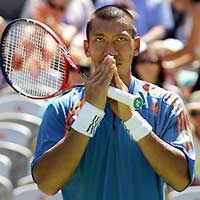 << Thailand's Paradorn Srichaphan acknowledges the crowd after winning his first-round match against the Czech Republic's Radek Stepanek at the Sydney International Tennis tournament January 10, 2006. Srichaphan defeated Stepanek 6-3 6-4. [Reuters]
Asia's top tennis player spent time as a Buddhist monk last month. He adopted the Buddhist name Mahaviro, meaning "great and brave," for his seven days in a temple outside Bangkok. His head was shaved in a traditional ceremony before donning the monk's saffron-colored robes.
"It was pretty interesting for me that week, my time away from tennis," said Paradorn, his hair still short. "It was a really calm week. Everything I have — the phone, the family — I just cut it, left it behind, walked into the temple and became a monk."
It is customary for Thai men to serve as a monk for at least one period in their lives as a way of showing religious devotion.
Paradorn decided it was his time in December. He felt himself fading under the pressure of public expectations after the highs of late 2002 and 2003, when he reached a career-high No. 9 in the rankings. The 26-year-old player slipped to No. 42 and failed to add to his five career titles in 2005.
On Tuesday, Paradorn beat seventh-seeded Radek Stepanek 6-3, 6-4 to reach the second round of the Sydney International, the main tuneup for next week's Australian Open. Paradorn next faces Ivo Karlovic of Croatia.
"It all started so quickly for me, in 2002, and it continued for 2 1/2 years, then I started to drop my ranking," he said. "I'd been playing a lot of tennis, plus there's always new players coming up."
"There was also a lot more expectations from home," he added. "There's always more happening off the court that you have to think about that sometimes makes you feel under pressure."
The strict daily regimen gave him new perspective.
"I feel like I'm more relaxed," he said. "I'm still going to play another four of five years and my goal is to try and make it back into the top 20. But I feel like whatever is going to happen, let it happen. If you go out there and if you try your best, that's what counts."
He says the time meditating will help his concentration while playing.
"You have to mix what you learn from the temple to be on the court," he said. "I can use that one week I spent in the temple. I can be really calm."