Financial woes, betrayal push Leonard Cohen into "incessant work," he says
The Brandon Sun, February 4, 2006
TORONTO, Canada -- Financial difficulties have pushed Leonard Cohen back into the spotlight, propelling the semi-retired poet and musician into "incessant work" and even into accepting an invitation to a glitzy celebrity-studded gala honouring his songwriting skills.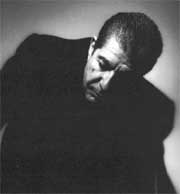 << Leonard Cohen
"I'm not really drawn to these kind of events," Cohen, clad in a sharp but worn suit, said in an interview Saturday on the eve of his induction into the Canadian Songwriters Hall of Fame.
"I don't think anybody really wants all that attention. I love the attention given to a song or a concert - something you've actually done and worked at and sweated over . . . But this, where you're somehow being honoured, they're always tricky."
Usually a private man who rarely gives interviews and shies away from Hollywood-style red carpet events, Cohen was persuaded to attend the gala, where the likes of Willie Nelson and k.d. lang will pay tribute to him, by his new Vancouver-based manager.
"I left the decision up to Sam Feldman. I'd gotten into a bit of trouble . . . I had to change management. My former management had relieved me of all my earnings," said the 71-year-old Cohen, who was contemplative yet warm and amicable while responding to questions.
His "bit of trouble" has him all but broke and involved in a couple of nasty lawsuits.
It all started when he recently learned that his life savings of $5 million, which he'd planned to retire on, had been nearly wiped out.
The Montreal-born poet alleges his former manager bled his personal savings and investment accounts dry during the time he spent living in a Buddhist monastery, the Mount Baldy Zen Center in Los Angeles.
"It's enough to put a dent in one's mood," he says of the betrayal by his manager, who'd looked after him for 17 years.
"Fortunately it hasn't," he adds after a short pause as if to show that while he's dejected by the situation, he's not completely undone.
In fact, some good has come out of the ordeal, something he refers to as only a "tiny disaster" in relation to a flood or tsunami.
Cohen will have several new works published in the coming months. "I'm always blackening pages and scratching away, but that particular crisis produced a real financial problem," he explains, fidgeting with a cloth napkin.
"Almost everything I had was gone . . . It produced a sense of urgency.
"What it did was not so much influence the writing itself - most of the writing was done. What it did do was promote a kind of swiftness in gathering the material together and presenting it. Usually I'd let things sit around for a few more years, so for better or for worse, they haven't matured for that long."
He'll have a book of poetry out in May as well as a new CD later in the year.
As well, Cohen's girlfriend, Hawaii-born Anjani Thomas, will release a CD on May 2. Blue Alert features her singing lyrics penned by Cohen. But for this weekend, at least, Cohen is thinking of his past material rather than trying to hawk his new wares.
Ain't No Cure For Love, Bird on the Wire, Everybody Knows, Hallelujah and Suzanne are being highlighted at Sunday night's gala, to be televised by the CBC on March 6, for their impact on Canada's musical landscape.
"I'm really happy that I've written them. You always try to write a good song but you don't always do it," he said bashfully. "It's a really wonderful thing to write a song and have it move into the world and have it touch people."
Singer lang says she feels a "kindred connection" to Cohen.
"I feel as a singer that singing his songs is an offering, and for me to sing one of his songs to him on Sunday night is a gesture of gratitude," said the Alberta-born performer who will sing Hallelujah for Cohen, a song she covered on her most recent album.
"It's no debate that he's one of Canada's greatest poets and songwriters, if not one of the world's greatest poet-songwriters. He always put himself in the turmoil but also on the compassionate end as well. He really was able to examine the human condition from a personal point of view."
Cohen says he continues to get fan mail referencing the impact his songs have had in people's lives. (Yes, he opens and reads all of it.)
Suzanne, in particular, is getting some additional attention by way of the CBC, which tracked down the woman who inspired the song after feeding Cohen "tea and oranges that come all the way from China."
Cohen actually caught the feature upon turning on his hotel's TV on Friday night.
"I turned on the news and found this long dissertation on the song and Suzanne," he said.
"I haven't been in touch with her."
But he still lauded the woman who lives a sparse life in California.
"It's a radiant spirit that she has . . . an unusual woman and an unusual life." "She doesn't know my life . . . Our lives are a lot closer than she suggests," he said.
So does Cohen welcome the unplanned return to the spotlight?
"These situations help me survive in the marketplace. I have no ambiguity about it. I'm very happy that people want to talk to me about my work."
But he says he'd welcome back privacy, especially if he could spend more time in Montreal, rather than Los Angeles.
While he shares his time between the two cities, he'd relish the opportunity to retreat to the home he purchased in his hometown back in 1972.
"I really miss it now that I have to be in Los Angeles (for court proceedings)," he said.
Some Leonard Cohen trivia
At 17, he formed a country-western trio called the Buckskin Boys.
At 24, used a $2,000 Canada Council grant to travel to Greece where he wrote poems and novels, including Beautiful Losers.
His music career began in 1966 when he sang two poems, Suzanne and Stranger, at a poetry reading in New York. The readings soon became concerts.
He retreated from public life in 1993 to live at a Buddhist monastery.
His songs have been covered by countless artists including Johnny Cash, The Pixies, Sting, Elton John, Jeff Buckley, REM, Nick Cave and Bono.
Cohen developed a reputation as a ladies' man, although he never married. Had two children, Adam and Lorca, with Suzanne Elrod. Was linked with singer Janis Joplin, whom he wrote Chelsea Hotel No. 2 about, and actress Rebecca De Mornay.