Golden-voiced monk baffles science
The Telegraph (India), Feb 2, 2006
After Grammy nomination, Lama Tashi promises 'different' music
Guwahati, India -- Buddhist monk Geshe Ngawang Tashi Bapu's golden voice has not only earned him a large fan following around the world and a Grammy nomination, but also aroused the curiosity of scientists.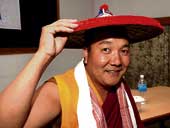 << Lama Tashi in a traditional Assamese japi in Guwahati on Thursday. Picture by S.H. Patgiri
Tashi today revealed that in 1988, two groups of medical experts examined his throat to unravel the secret behind his vocal chords.
Twice during his world tour that year, doctors at Montreal in Canada and Florida in the US conducted tests to find out how he could produce multi-phonic sounds that give the impression of several singers performing at once.
"Once they inserted a camera through my nose to look at my throat to find out the reason," the ever-smiling Tashi, popular as Lama Tashi, said during an interaction with the media in Guwahati.
"I felt very sleepy when my throat was examined," the 38-year-old monk said, adding sheepishly that he did not ask for the results of the tests.
Tashi's Tibetan Master Chants has been nominated for the Best Traditional World Music Album at the 48th Grammy awards, to be presented in New York on February 8.
---
Read also: Expose north-east music to world: Lama Tashi
---
The monk was in Malaysia on December 18 when he came to know from his nephew about the Grammy nomination. "I was very surprised. It was a pleasant surprise," he said.
Tashi is the principal of the Central Institute of Himalayan Culture Studies at Dahung, in Arunachal Pradesh, and his music is aimed at "spreading peace, harmony and love".
During his tours of the West, Tashi always emphasised the value of mutual respect, love and spirituality through his chants.
"This kind of music is very important for the West, where people drown in materialism," he said.
Tashi's initiation into Buddhist philosophy dates back to 1983, when he joining the Gontse Gaden Rabgeyling monastery — also called the Bomdilla monastery — in Arunachal Pradesh.
The same year, he shifted to the Drepung Loseling monastery, which was relocated from Tibet to Karnataka after the Chinese invasion.
A widely travelled man, he has since given performances around the world and even lent his voice to the soundtrack for the Hollywood film Seven Years in Tibet.
In April 1999, he performed for the Dalai Lama at Curitiba, Brazil. Later in the year, he enthralled audiences at the World Festival of Sacred Music at the Hollywood Bowl in Pasadena, California, and Central Park in New York.
Tashi took the stage at the Carnegie Hall in New York twice — in 1997 and 1998 — performing with musical greats like Philip Glass, Natalie Merchant, Michael Stipe, Patti Smith, Ben Harper, Billy Corgan of the Smashing Pumpkins and Sheryl Crow.
Tashi is at present collaborating with musician Lyle Sanford for an album that will also have instrumental accompaniments. "Tibetan Master Chants contains only chanting in the traditional style, but my next album will be different. It will be like a listener's guide to chanting," he said.