Multiphonic monk takes nostril camera test
by Rahul Karmakar, Hindustan Times, Feb 8, 2006
Guwahati, India -- When this Indian monk chanted, the West wondered how he created a choral effect. Ngawang Tashi Bapu or Lama Tashi - who mesmerised music lovers with his multi-phonic chanting - found a place in Grammy nominations and triggered a chain of vocal experiments, is changing track. He will now sing in monotone, in his "normal voice".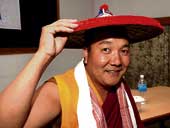 << Lama Tashi
Last year, Lama Tashi took the US by storm with his solo album Tibetan Master Chants comprising 12 Buddhist mantras of compassion and tranquillity. On the eve of the 48th Grammy Award presentation — the "world's biggest music show" — the 38-year-old Monpa monk from Arunachal Pradesh has revealed his wish to sing in his normal voice. "I am working on my next solo album that will have Lord Buddha's spiritual messages, but it will not be multi-phonic chants, as the West calls it. This album will be monophonic, in my normal voice," said Lama Tashi.
The chant master, however, admitted that he could have sparked off the multi-phonic craze in the US. According to him, medical experts in the US and Canada are conducting experiments to find how he produced the choral singing effect.
"They inserted minuscule cameras into my nasal cavity to study my vocal chords when I chanted. I have not asked them what they found," said Lama Tashi. What they will not find out through camera is how he spent hours perfecting multi-phonic chanting. "It involves producing two different notes from our vocal chords simultaneously to create a vibrating sound," he explained.
The monk, who is the principal of the Institute of Himalayan Cultural Studies at Dahung in West Kameng district of Arunachal Pradesh, maintained that being a representative of universal peace from a region perceived to be violent meant more to him than winning a Grammy. Lama Tashi's album — produced by his US-based friend Jonathan Goldman — was among the Top 10 solo albums in northern America and was nominated for the 48th Grammy awards.