Disciplined in peace
by KAREN RIVERS, South Bend Tribune, February 16. 2006
Nun shares beliefs of Buddhism
Elkhart, Indiana (USA) -- Her head is neatly shaved, as custom dictates. Brown robes drape comfortably around her body. A string of simple beads adorns her wrist. Her appearance may be unexpected, at least for the streets of Elkhart, but according to The Venerable Wuling, it never seems to cause a stir. With a laugh she says her neighbors are "amazingly not obvious" about noticing her.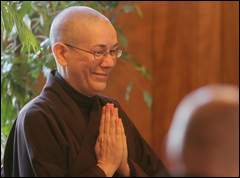 << The Venerable Wuling, a Buddhist nun, leads a discussion and meditation session on Feb. 6 at the Unitarian Universalist Fellowship of Elkhart.
However subtle their glances, people can't help voicing surprise when they find out the robed woman at the coffee shop is a Buddhist nun.
Most didn't know that Buddhist nuns exist.
Despite that fact, Wuling has found quite a few students since moving to Elkhart two years ago to care for her 91-year-old mother. She teaches and leads meditation in two local spots: the Unitarian Universalist Fellowship of Elkhart and Sacred Waters Spiritual Center in Mishawaka.
It seems that people are often curious about Buddhism, even when they know almost nothing about it.
"Generally, the overall feeling that people have toward Buddhism is very positive. ... Even if people don't know much, they know that the Buddha was a peaceful man," says Wuling (pronounced OOH-ling), who just turned 60.
Wuling also believes that Buddhism's emphasis on compassion appeals to people's better nature.
Perhaps it is the focus on peace and compassion. Perhaps it's the compelling concept of karma or the serene image of the Buddha. Whatever the trigger, people often are intrigued by the tenets of this Eastern philosophy, practiced by an estimated 350 million people worldwide.
What makes it particularly relevant for her students here is that many Buddhist principles can exist alongside other religious beliefs without conflict. In fact, it's often said that Buddhism, strictly speaking, is not a religion.
"It's just a way of living. It's a state of mind. It's something that's present in every moment," Wuling says.
The Buddha is not a supernatural being, but a teacher. He was born a prince, yet he was so profoundly touched by the suffering of others, he gave up wealth, privilege and security to pursue a life of contemplation. He lived without shelter, wore rags and foraged for food as he meditated, searching for a way to alleviate the world's pain.
In this process, he discovered what he called "The Middle Way," a method of living in which one neither indulges nor abuses oneself. In this way, the Buddha provided guidelines for liberating the soul from pain and suffering. To do so is a personal choice and responsibility, not a mandate.
Buddhism, Wuling says, concentrates on such universal tenets as "not killing, not harming, not stealing, using words which are correct and beneficial." It seems these rules come into play on every level of one's daily life. For instance, in a recent discussion with her students, she helped them tackle this situation: When a friend asks if you like her new haircut, and you don't like it at all, what's the right answer?
According to Wuling, a little white lie is no good.
"We have to find something to say that doesn't hurt them but is also the truth," she says. "(Buddhism is) being aware that everything you think, say and do has an effect and will come back to us."
Wuling was born Jewish. She grew up north of New York City, in the country, where her family was part of a Unitarian Universalist congregation. She started reading about Buddhism in her teens. She was drawn in and particularly struck by the concept of causality -- a Buddhist belief that says things happen to us because of what we have done in the past.
While she remained interested in Buddhism for a long time, it played a minimal role in her life. It was just 12 years ago that she finally found the right time and place to study. In Dallas, she began introductory courses and attended a six-month lecture series on Buddhism. She requested a master (also known as a teacher) and began the process of becoming a nun.
The first major step was taking her initial vows, which included the shaving ceremony. The gesture symbolizes the cutting off of afflictions.
As a nun, Wuling has committed herself to living a very simple and moral life, one without personal possessions. Beyond her robes and beads, she essentially owns nothing.
"I took a few things that were meaningful to my family and gave them back to my parents, and then I just gave the rest away. It's actually very freeing. When you do it, you give away a lot your worries, a lot of your cares," she says.
She was formally ordained in Taiwan, at a ceremony with about 600 other women. After ordination, Wuling returned to Dallas and later traveled to Singapore to listen to her master teach.
Eventually, she became director of The Amitabha Buddhist Retreat Centre near the eastern coast of Australia in the state of Queensland. During her time there, Wuling published a number of books, including "Awaken to the Buddha Within" and "Transforming Anger."
Despite a move across the world, it seems that Wuling hasn't lost her focus.
At a recent session at the Unitarian Church, Wuling speaks to a small but rapt group about the Sutras, the Buddha's oral teachings written down by his students. After the discussion, she guides half a dozen women in a session of walking meditation.
As they begin, Wuling gently clangs a hand bell, the slow and even rhythm matching her footsteps. She leads the group in meditative circles, everyone chanting softly. Eventually, they settle into chairs, spending several minutes in silence. Wuling ends the session with a final, gentle ping of the bell.
When she first started meditating, Wuling says that she, like most people, was bombarded by thoughts. Now, she can settle into a peaceful state much more quickly.
Meditation, she says, can offer people balance in a confusing world.
"Not everybody wants to practice Buddhism, but everybody wants to calm down. ... We can't do anything about wars, but we can control the way we think, feel and act. ... The main thing we can do is find that peace within each of us," Wuling says.
As the small crowd breaks up for the day, everyone scans a table full of Wuling's books as well as beads like the ones she wears. Many pick things up and offer checks, which are strictly donations. Wuling does not charge for the teachings of the Buddha.
As her students leave the building, Wuling gets a hug from almost everyone there. She is preparing for a short trip to Indonesia, and while she'll be gone for less than a week, she makes sure everyone has her e-mail address just in case.
"I'm a woman who needs a hug," she says, laughing and putting her arms around one woman as another asks about her mother.
Wuling will be living with her mother in Elkhart indefinitely. Respect for parents is an important value for her, one that happens to be stressed in Buddhism and Chinese culture. In addition, it seems that Wuling likes it here.
"Of the places I have lived in -- Asia, Australia, the United States -- I feel probably the most comfortable in Elkhart. People here are open-minded, welcoming and friendly," she says.
She has the Internet and keeps in touch with the center in Australia, and she is busy with her teaching and writing. With a smile, she explains that her work can be done anywhere in the world.