Timeless poetry, emotion in salute to Leonard Cohen
by MARILYN H. KARFELD, Cleveland Jeweish News, Aug 12, 2006
Cleveland, Ohio (USA) -- The first thing that grabs you is his gravelly voice, growling out poetic lyrics or rumbling articulate pronouncements on life. When Leonard Cohen emerged on the folk-pop scene nearly four decades ago, his raspy sound became his signature as much as the elegant phrases and soulful music he created.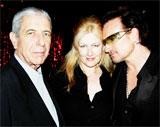 << Songwriter Leonard Cohen, left, and U2's Bono flank Lian Lunson, who directs the documentary "Leonard Cohen I'm Your Man."
In her enthralling documentary, "Leonard Cohen I'm Your Man," opening August 11 at the Cedar Lee Theatre, Australian director Lian Lunson lets us hear that eloquent voice.
She effectively weaves together interviews, archival footage, and performances of Cohen's best-known songs at a tribute concert in Sydney, Australia, in January 2005. Added to the mix are Cohen's personal photos and accolades from the musical artists he inspired.
The Montreal-born troubadour's haunting ballads of love and longing, sex and spirituality, are timeless, Lunson's film attests. Passionately covering Cohen's classics at the Sydney Opera House are such headliners as Rufus Wainwright, Nick Cave, Bess Orton and Martha Wainwright. Cohen's songs like "Suzanne," "Sisters of Mercy," and "Hallelujah" move us just as they spoke to earlier generations.
Lunson cuts between interviews with Cohen, who reveals a beguiling honesty about his life and work, and performances of each of his songs. While the singer-songwriter's musings at times can veer toward the pretentious, he continually deflates them with his wry humor and self-deprecating manner.
Of the ups and downs of his career, he says, "Things got easier when I no longer expected to win. You abandon your masterpiece and sink into the real masterpiece." Then he reads his modest preface to a Chinese translation of a volume of his poetry: "Dear reader, please forgive me if I've wasted your time."
When he was living in Montreal, Cohen and fellow poets used to severely critique each other's work. "We thought the most important thing was good writing," he says. "Poets were 'the unacknowledged legislators of the world' (borrowing from Shelley). We thought it was terribly important what we were doing. Maybe it was."
He notes that his indiscreet song "Chelsea Hotel No. 2", about a sexual liaison with Janis Joplin, wouldn't have bothered the late rock icon. "My mother would have minded," he deadpans.
Although he was known as a lothario, Cohen confesses, "My reputation as a ladies' man was a joke. I laughed bitterly through the 10,000 nights I spent alone."
Among the performers who shared personal reminiscences of Cohen, Rufus Wainwright recounts first meeting the usually sartorially splendid songwriter. Cohen was dressed only in his underwear as he attempted to feed regurgitated noodles to a baby bird he was reviving.
Other artists, such as Bono and U2 bandmate the Edge, mostly just gush over Cohen. Bono calls Cohen, who turns 72 in September, "our Shelley, our Byron." The Edge compares Cohen to Moses bringing down the stone tablets.
While celebrating Cohen's work, the film also reveals intriguing, albeit too few, tidbits about his life. His father, who died when he was 9, owned a clothing store. Thus began Cohen's lifelong fondness for stylish suits. He tried wearing jeans, he says, but just wasn't comfortable in them.
Religion is a major interest in Cohen's life. The first poetry that affected him came from Bible stories and synagogue liturgy. Then he undercuts this lofty image, noting he also found inspiration in Marvel Comics.
Although he was raised a Jew, Cohen sampled other religions, moving for a few years to a Zen monastery on Mt. Baldy in California in the 1990s. There he studied Buddhism and was ordained as a monk. He recalls his first winter, and how Roshi, the Zen master, was Japanese and the head monk was German.
"It was the revenge of World War II," Cohen quips. "An American walking in sandals in the snow, beaten with sticks."
Serious again, Cohen notes that Roshi didn't care about his past or who he was. "So who I was began to wither. The less I felt who I was the better I felt."
The film is produced by Lunson, Bruce Davey, and Mel Gibson, who made headlines recently when he was stopped for drunk driving and uttered an anti-Semitic rant to the arresting police officer. Flush enough to bankroll film projects since the huge financial success of his "The Passion of the Christ," Gibson claims in the documentary's production notes to have always been a major Cohen fan.
Unfortunately, we only hear the inimitable Cohen sing once. In the documentary's last musical number, staged for the movie at a New York club, Bono and U2 play backup on Cohen's 1988-released "Tower of Song." The dour poet-songwriter is elegantly garbed in his trademark suit, his eyes are closed, and his chiseled features could be immortalized on a newly minted Buffalo head nickel. As he talks and lip-syncs his way through the lyrics, his aging voice explores mortality and posterity with deep irony and wit.
Bono applauds the performance, and Cohen gruffly recites from one of his poems: "I had the title poet, and maybe I was one for a while. Also the title singer was kindly accorded me, even though I could barely carry a tune."