Gehlek Rimpoche to share with Malaysians
By Lee Tse Ling, The Star, November 29, 2004
Kuala Lumpur, Malaysia -- THERE is a whole generation out there for whom Buddhism is a parental legacy and equates to smoky temples, gongs, drums, and incomprehensible chanting.
Traditional religious practices are rejected because answers and wisdom are rendered wooden in translation. Religion is difficult to rationalise and swallow whole when faith is crowded out by the incessant buzz of questions.
Perhaps Gehlek Rimpoche?s approach can provide a happy compromise for the questioning seeker who can accept a guide full of wisdom, understanding, cheeky good humour and, importantly, speaks perfect English.
Rimpoche is the grand nephew of the 13th Dalai Lama (predecessor of the current Dalai Lama in exile, Tenzin Gyatso). Recognised as a reincarnate lama at the age of four, Gehlek was conferred the title of Rimpoche, meaning Precious One.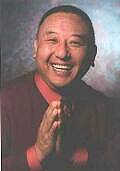 << Gehlek Rimpoche: theology prodigy, spiritual teacher and wise-cracker.
In exile, the young Rimpoche was selected to continue studying with the Dalai Lama?s personal tutors. Encouraged by his teachers and the Dalai Lama himself, Rimpoche left India for the United States to begin teaching in the 1970s. He founded the first Jewel Heart centre in Ann Arbour, Michigan, in 1988.
Rimpoche will be in Malaysia next month and Jewel Heart Malaysia is giving the public a chance to meet Rimpoche, either in a free question and answer session on Dec 6 (8.45pm-10pm) or through two three-day courses. All three events will take place at the Chempaka Buddhist Lodge in Petaling Jaya.
Topics for the courses are:
Odyssey to Freedom, a full Lam Rim teaching condensed from the teachings of Tsongkhapa, 14th century founder of the Gelugpa sect, and will run from Dec 6 to 9.
White Tara Longevity Meditation and Initiation from Dec 10-12. Malaysian Buddhists recognise Tara as the Goddess of Mercy.
For more information on Rimpoche?s visit and his courses, call Jewel Heart ( 03-2161 0818 / 06-952 7961 / 012-662 9876 / 012-201 2839) or e-mail malaysia@jewelheart.org