Dalai Lama: The voice of Buddha
By Kamilla Hemandas, Manila Standard Today, Aug 24, 2006
Manila Philippines -- "I am a Buddhist monk who practices infinite compassion and I pray on a daily basis for the happiness of the entire sentient beings. I believe in the promotion of human values. I instinctively want a happy life for all the six billion humanity because we are all part of them. . If they are in difficulty, we also suffer. That is why I have committed fully and voluntarily in my concern for their well-being." - His Holiness the Dalai Lama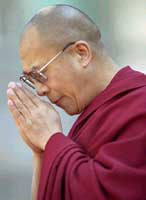 At a time when religious violence is justified by many, the Dalai Lama is admired as one of the few religious leaders who to this day stands his ground. For him, the end still does not justify the means.
At his official residence in Dharamshala in the Himalayas of India, His Holiness the Dalai Lama, in an in-depth interview with CSS Latha of Society magazine, related how he has not changed his stance despite the long years of living in exile away from his native Tibet. He is firm in his conviction that Buddhism is all about spirituality and not politics. "Politics is the business of the human community. But if the people who carry politics are more religious-minded then their political activities would be more truthful, honest and compassionate.
Practicing "Buddha dharma" or the preservation of Tibetan spirituality and culture may provide better platform for the Tibetan freedom struggle. Tibetan freedom and Tibetan Buddhism are very much related. I am a Buddhist monk and Tibetan freedom struggle is purely political. That's why I have to consider whether I must involve myself in this or not."
Tenzin Gyatso, the 14th Dalai Lama, benevolent, humble leader of Tibetan Buddhism and Nobel Peace Prize awardee has been living in India since he fled Tibet in 1959. For years his struggle to lead Tibet through his dynamic compassion as both its political and religious head has incurred the ire of the Chinese government. In 1960, then Indian Prime Minister Nehru granted him and his community refuge in India after he was driven out of his domicile, the Potala Palace, during the height of communist rule in China. Today, people from all over India come to listen to his personal teaching sessions as his views are considered "the voice of the Buddha himself." He confides: "Deep down inside I will always consider myself a monk. I feel myself more as a religious person. Even in my daily life, I can say that I spend 80 percent of my time on spiritual activities and 20 percent on Tibet as a whole. I have no modern education in politics except for a little experience. It is a big responsibility for someone not so well-equipped "
Indeed, the Dalai Lama walks his talk. He leads an austere, disciplined life characterized by long hours of meditation and study. According to the Joint Secretary of his office, Chhime Chhoekyapa, "when His Holiness is in Dharamshala, he wakes up at 3:30 in the morning. After his morning shower, he begins the day with prayers, meditation and prostrations until 5 a.m. After which he takes a short morning walk around the residential premises. If it is raining, His Holiness uses a treadmill. Breakfast is served at 5:30 a.m. For breakfast, he has hot porridge, tsampa (barley powder), bread and tea. His Holiness tunes his radio to BBC World News in English while having his breakfast. From 6:30 a.m. to 8:30 a.m., His Holiness continues his morning meditation and prayers. From around 9 a.m. till 11:30 a.m., he studies various texts written by Buddhist religious masters. 11:30 to 12:30 is lunchtime.
His Holiness kitchen in Dharamshala is vegetarian. But during visits outside of Dharamshala, he makes allowances for nonvegetarian food. As an ordained Buddhist monk, His Holiness does not have dinner. Should there be a need to discuss some work with his staff or hold audiences, or interviews, His Holiness visits his office from 12:30 p.m. until 4:30 p.m. Typically, during an afternoon at the office, one interview is scheduled along with several audiences, both Tibetan and non-Tibetan. Upon his return to his residence, His Holiness has evening tea at 6 p.m. He then has time for his evening prayers and meditation from 6:30 to 8:30 p.m. After a long 18 hour day, His Holiness retires for bed at 8:30 p.m. Sounds like an exhausting regimen for a man in his 70s.
In the last two years the Dalai Lama has traveled to 25 nations emphasizing the basic human values of tolerance, compassion, forgiveness and sense of responsibility. "All religions speak of the same things... love, compassion, tolerance and forgiveness. It is the same message given in different methods and we need different methods. Seeking genuine harmony on the basis of mutual respect is the voluntary commitment I take as a Buddhist monk and will follow them till my death".
When asked about the current plight of his fellow monks in Tibet where a few monasteries still stand, the Nobel Laureate laments, "I am very much concerned about them because their lives remain under fear. When I came to India, I was 25 years old. Today, I am over 70. So the best and most important years were spent in India where I enjoy a complete freedom."
On the current suppressed Tibetan society who are growing restless with the oppressive way of life, "Many Tibetans particularly the younger generation who are inside Tibet, want complete separation. But according to me, Tibet is still quite backward, materialistically speaking. Therefore, as far as material development is concerned, if we remain within the purview of China, we might get greater benefit provided the Chinese government gives us a meaningful autonomy."
The Lama is a cheerful jovial man who readily breaks into a smile. Bliss and contentment seem to permeate his personality. Despite the tall order he faces as both the head of state and an institution that evolved 500 years ago, he remains optimistic for the future. In another much publicized earlier interview, he has said that the next Dalai Lama would probably be born outside of Tibet if the situation of religious persecution still remains. Meanwhile, this soldier of peace and icon of spirituality is in the lofty snow-capped Himalayas touching the hearts and minds of everyone he meets as he walks the eight fold path of the Buddha.