Dalai Lama cured Brit TV star of panic attacks
Asian News International, September 13, 2006
London, UK -- British TV star Zoe Lucker has credited the Dalai Lama for bringing peace into her life and curing her of her panic attacks.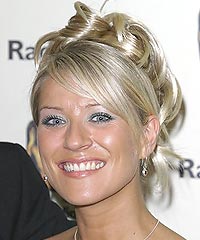 << British actress Zoe Lucker - credits Dalai Lama's book for curing her panic attacks
The actress, who plays the role of a sex-mad superbitch on the hit British show Footballers' Wives, revealed that reading the Dalai Lama's book The Art Of Happiness, had changed her stress-filled life for the better.
"As soon as I started reading the Dalai's words I felt this sense of reassurance and comfort. It was almost immediate. Before reading the book I had felt I was on my own....The main message I got out of the book was that in order to make myself happy, I have to make other people happy. It's all about trust, friendship and the fundamental things in life we take for granted. They're the only way we can find true happiness," the Daily Mail quoted her, as saying.
"Once you strip down the other things that bother us - society and the way we live - it's very materialistic. Don't get me wrong, I love having a nice house and being able to pay my mortgage. But it's dangerous if they become the main focus in life, because how can that ever lead to, you know, nirvana?" she said.
And though the book brought a sense of peace into her life, Lucker said that it was her encounter with the Dalai Lama that had the most profound effect on her.
"When I first saw him my whole body just went into this weird state. We'd just trekked the Himalayas and there was this huge sea of people waiting to see him. Yet it was incredibly serene. Then he walked past us, about 3ft away, and waved. It's the first time I've ever been starstruck," she said.
"Essentially, it comes from the people I met - people who have nothing, but who are constantly smiling. It's very humbling," she added.
The trip was documented for a two-part ITV show titled 'Date With The Dalai', and will be broadcast in the UK during the week.