The voice of one anguished Dalit
by Khushwant Singh, Hindustan Times, October 27, 2006
New Delhi, India -- In the last 70 years India produced three great leaders who made Dalits conscious of their rights in our caste-ridden society: Dr. Bhim Rao Ambedkar, Babu Jagjivan Ram and Kanshi Ram.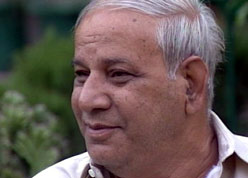 << Kanshiram's tryst with Dalit cause took off in 1978.
Ambedkar took up cudgels, on behalf of the Mahars of Maharashtra, represented them at the Round Table Conference and was one of the drafters of our Constitution. However, none of this lessened the discrimination practiced by upper castes.
In sheer desperation he decided to extricate his community from the Hindus by converting them to another religion. He toyed with the idea of Sikhism but changed his mind and opted for Buddhism. So we have neo-Buddhists, largely Mahars.
Babu Jagjiwan Ram was the principal figure of the renaissance of Dalit consciousness. However, he opted for an easier life, as a government minister. Although he remained a Cabinet minister in the central government, and for some time a deputy prime minister, he did very little to improve the general lot of the Dalits.
Kanshi Ram was from a different mould. He was not an intellectual nor looked for official patronage. He was born into Sikh Dalit family of Ropar (Punjab). His one aim was to make Dalits across the country a united electoral force and acquire political power to better their status. His efforts bore fruit. Mayawati is his protégé. Unfortunately, his health began to fail and he was unable to control Mayawati's squander-mania. She blew up crores in laying parks with Ambedkar's statues.
Kanshi Ram was put out of action by a stroke some five years ago. One did not hear much about him besides the squabbles between Mayawati and his Sikh family from Ropar. I have no doubt she provided him with the best medical attention till he died on October 9, 2006. He was 74.
Almost every leader paid Kanshi Ram tributes. Ambedkar remains an icon of the Dalits, Jagjivan Babu a sarkari figurehead, Kanshi Ram is the voice of the Dalits.
I had the privilege of spending three days with Kanshi Ram in Hyderabad some 28 years ago. We were at a seminar organised by the Leslie Sawhney Foundation. Kanshi Ram was evidently out of his depth among intellectuals. He was more comfortable conversing in Punjabi with me. We ate and relaxed together. But I could sense his suppressed anger at the treatment of his fellow suffering Dalits. I shared his anguish. I also sensed he meant more to India than all of us put together.