Buddism professor heading westward for new job
By Adam Smeltz, Centre Daily Times, Oct 30, 2006
UNIVERSITY PARK, Penn (USA) -- For 35 years and thousands of Penn State students, Charles Prebish has been a gateway to the Eastern world. He has been the sole professor of Buddhism here since 1971, introducing to undergraduates a religion that is fast emerging in the U.S. and in global cultural exchanges.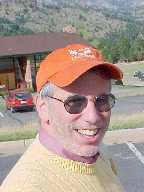 By December, though, the 62-year-old will leave State College, he said last week. Prebish has accepted the Charles Redd Endowed Chair in religious studies at Utah State University.
He had been planning to retire soon from Penn State, where he witnessed the downsizing of religious studies from an entire department to the current, smaller program.
But Prebish, a preeminent scholar in American Buddhism, said the opportunity to help develop a religious-studies program at Utah State was irresistible.
"It's an enormously exciting challenge to go to a university that is known as a Mormon-related school and open a religious-studies (program) that is open, welcome and inviting," Prebish said.
Raised a Jew, Prebish converted to Buddhism in his college years, after his father's death. He finished an undergraduate degree in chemistry, eschewed dental school and enrolled in a Buddhism class at what is now Case Western Reserve University in Cleveland.
"From the first day in that class, I knew I was home," Prebish said.
Teaching his own classes, Presbish is a lesson in motion. He darts from lectern to blackboard. He teases his students.
"Oh, hi," he said to a guy who rolled in 25 minutes late for a 9:45 a.m. lecture.
Prebish turned back to the class.
"He doesn't look awake, does he?"
Prebish lightly chided another student for her smoking habits. A student who asked him to repeat a key point received a gentle scolding.
"Don't flirt with him," Prebish told her, referring to a classmate. "Pay attention to the blackboard."
Prebish, who teaches other Eastern religions in addition to Buddhism, takes his subject matter to heart. The world is home to at least 350 million Buddhists, the majority of them in Asia, he said.
The Buddhist population in the U.S. is about 6 million -- up from less than a half-million in the 1970s, Prebish said.
As Asia becomes a greater focus of the world, he said, an understanding of Buddhism is more and more vital in business, politics and other cultural exchanges.
Steve Ruhl, a Harvard University graduate student and a Penn State alumnus, said Prebish shared not only enthusiasm and knowledge.
Prebish also shared friendship, Ruhl said.
"That's a rare and valuable gift for a professor to offer an undergrad," Ruhl wrote in an e-mail.
Adam Leid, an undergraduate, called Prebish's instruction stimulating.
"My first impression was that Dr. Prebish was a little quirky and not the typical professor I was accustomed to," Leid wrote in an e-mail. "He would infuse stories, personal and professional, into his lecture that would keep the mood light and sustained an environment that was conducive to not falling asleep -- normally a problem in college courses."
Prebish, married and a father of two, has written or edited 20 books. With a colleague in London, he founded in 1994 the online Journal of Buddhist Ethics, the first peer-reviewed online journal in Buddhist studies.
Prebish also is an expert in the emergence of American Buddhism. In the late '70s, he and a colleague famously unraveled the origins of the Buddhist sectarian movement in India.
Gary Cross, a Penn State history professor, said Prebish is a feisty character known for upholding standards.
"He certainly has always been willing to place demands on students who don't meet standards," Cross said. "But he's always been fair and attentive."
The College of the Liberal Arts is seeking candidates to teach Buddhism after Prebish departs, religious-studies director Jonathan Brockopp said.