Buddha Meets Hollywood
By Susanne Weingarten, Spiegel Online, Dec 20, 2006
Los Angeles, USA -- When Richard Gere meditates in India, even the Dalai Lama makes time for his famous acolyte. Religion has become the opiate of choice for the U.S. acting profession. Some stars need it to massage their egos. But for a heart-throb like Gere, meditation may be the path to overcoming his narcissism.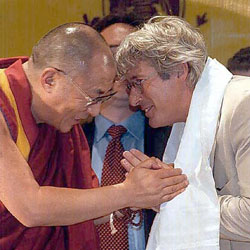 << Dalai Lama, acolyte Gere: "You have no idea how much monkey stuff is going on in your mind, how cluttered it is" (DPA)
When Richard Gere reflects on his youth, he pictures a depressive, brooding, lost young man with a leather jacket and long hair. Someone toting around a copy of Jean-Paul Sartre's existentialist tome Being and Nothingness. Someone harboring thoughts of suicide who checked himself into a New York psychiatric clinic at the age of 21.
When others recall the young Richard Gere, sex comes more readily to mind than existentialism. In his home city of Syracuse he had girls "diving at him from across the street," Gere's sister Joanne recalls. He was a "gorgeous hunk," gushes one theater director who had shared a dressing room with Gere at the Provincetown Players in the late 1960s. Like the rest of the troupe, he looks back with gloomy nostalgia at the supple ex-gymnast with the irresistible erotic aura. That's how easily self-image and external perceptions can diverge.
The erotic aura no doubt helped make Gere a movie star in the first place. His 1980 breakthrough - American Gigolo - featuring the actor playing a high-class Beverly Hills toy boy, is basically about Gere's phenomenal sexual impact on his environment.
But it was a glimpse of his inner self that made Richard Gere a Buddhist. The depressed young man had sought meaning in life and a way out of despair. He finally found both - not in the writings of Sartre but in Eastern religion. "Back then doubts were eating away at me," Gere noted a few years ago. "And Buddhism as a religion seemed like the therapeutic way to deal with that. I know it was the right decision. For the first time, I felt I had really found myself."
After the Dalai Lama, the 57-year-old Gere is the Western world's best known Buddhist. Nevertheless, to this day many find it hard to reconcile his Hollywood success with his faith. "Monk or macho?" asked Playboy, displaying characteristic subtlety.
When Hollywood greats discover their spirituality and begin extolling the virtues of introspection in a world that rewards superficiality with dizzying fees, skepticism toward professed piety comes easy. Many stars indulge in faith-hopping, desperately chasing the latest trend (and the promise of everlasting youth, perpetual success and eternal life). The winds of psychospirituality blow constantly through Hollywood. First it was Buddhism, then came Scientology, followed by the New Age guru Deepak Chopra. And for the past few years stars have embraced the questionable merits of the Kabbalah movement, the current doctrine du jour of the cinema city.
Most popular of all are the guilt-free spiritual fads that survive without taboos or a stern, vengeful God, and refrain from preaching the renunciation of all worldly pleasures. Piety has no place here, nor does submitting to the commandments of a higher being, as in the Judeo-Christian tradition. Instead, it fulfills a largely therapeutic function, as Gere's case illustrates. It focuses on the individual, emphasizing high self-esteem and well-being. Religion can then become an active lifestyle component, alongside the psychotherapist, the Yoga instructor, the nutrition adviser and the personal trainer. In Hollywood, fulfillment is viewed solely through the prism of commercial success. And success means staying mentally and physically fit.
Scientology and Kabbalah in particular have repositioned their brand of religion as a training camp for the spirit. These two movements promise disciples total wish-fulfillment, even in the most profane of realms. They pledge to deliver better sex, bigger fees and greater professional success. Both appeal to the ambition - not to mention megalomania - of many Hollywood stars.
In an industry that espouses "Nobody knows anything" as its sole precept, these prospects of fulfillment satisfy a need - something Gere also understood. They offer stability in a world where success and fame hinge wholly on intangible factors, and everyone is only as good as their last film. And they are empowering: the individual gains the ability to influence his or her own development, no doubt a persuasive notion to these high-strung artists.
The story goes that Gere took to his bed fully clothed after he was fired as the lead actor in The Lords of Flatbush in the mid-1970s. Then he experimented with meditation for the first time.
Now he sets aside at least three-quarters of an hour a day for his ritual, rising at 4:30 a.m. if necessary because, he says, this introspective interval ensures him "a relaxed, stress-free life," adding that "Almost all forms of meditation are a form of looking at the mind. At the start you are almost amazed how much noise is going on there. You have no idea how much monkey stuff is going on, how cluttered it is. You look at that and you're acknowledging what the mind is, you're taming it, and when you have done that you have learned the power of concentration."
Gere has never exploited his belief system to serve his career, unlike, say, the L. Ron Hubbard adepts Tom Cruise and John Travolta. Instead he comes across as a man who has used religion as a deliverance from his egocentricity, rather than as a tool for spiritual justification and selfaggrandizement. Gere is a narcissist seeking to overcome his infatuation with his own image.
Gere has always been fascinated by the "idea of emptiness" in Eastern religions. "That I was going to disappear was a positive thing to me", he has said. "I would be negated and there would be no more pain because there would be no me. And, I think I'm still hoping that will happen, but I see it in a slightly different way now."
In a city of inflated egos Richard Gere has spent decades cutting himself down to size. This forceful renunciation of self may merely be narcissism in its purest form, in which modesty conceals vanity. On the other hand, Gere's attitude is a whole lot more palatable than the messianic complexes of many Hollywood A-listers.
Apparently Gere's disappearing act has been successful. Journalists who meet him are wont to describe the man as "elusive as smoke," even as a "great big nobody." He is notorious for avoiding interviews, particularly when the questions probe his private life. (Following his divorce from the model Cindy Crawford, he has remarried and has a young son). He prefers turning the conversation toward politics and Buddhism. "You are free when you are no longer at the center of your own life," he professes.
Which does not mean he feels the urge to abandon his Hollywood career. "In this lifetime" his job happens to be acting. "In other lifetimes there are other jobs," he says. Richard Gere, reincarnated as an accountant?
And the fame? All Hollywood stars claim they have little interest in being a celebrity, and are committed only to their craft. Very few sound credible - not even other Hollywood Buddhists like Sharon Stone, Tina Turner, Orlando Bloom, Steven Seagal and even Oliver Stone. But coming from Gere, this assertion rings true: his celebrity status might really be a source of discomfort. He seems keenly aware of his limited role in the big picture. A few years ago, he said he felt more comfortable now that he could put his fame to a good cause.
His private therapeutic journey has taken the American Gigolo on a sociopolitical crusade; now he can demonstrate that life no longer revolves solely around him. As a disciple of the Gelugpa School of Buddhism that holds sway predominantly in Tibet, Gere has embraced the cause of the repressed Tibetans. Several times a year he visits Dharamsala in northern India, the seat of the Tibetan government in exile, where he practices his faith under the tutelage of the Dalai Lama himself - such are the perks of global stardom. But he's also a political activist.
In 1987 he helped found the "Tibet House," a cultural institute in New York City. Later he set up the Gere Foundation, which aids Tibetan refugees and promotes an autonomous Tibet. Gere comes across as a knowledgeable lobbyist when he attends conferences, makes speeches and writes op-ed pieces. He is unwelcome in China after repeatedly condemning the ongoing Chinese occupation - once even during the Oscar awards in the early 1990s.
Gere is "an amazing man," says director David Siegel, who shot the religious family drama Bee Season with the actor in 2005. "He spends a huge amount of time at the service of helping others."
Why, of all faiths, was it Buddhism that helped Gere to the enlightenment and wisdom that his friends believe he's attained today? Why not Christianity, the religion he was raised with? The son of an insurance agent and homemaker in upstate New York, Gere grew up in a middle-class family. He was one of five children whose parents sang in the choir of the Methodist Church they attended every Sunday. That's light years from Dharamsala.
But Gere considered Christian institutions "corrupt." His religious upbringing seemed far removed from the teachings of Jesus Christ, more concerned with preserving the Methodist establishment. Discovering meditation was tantamount to finding his "real life." He said, "Every time I sit down and wrap my legs over my knees, I see this image of myself and I say, 'Where the fuck did this come from?' I have no idea." But Gere believes in karma, a deep inner bond that led him to Tibetan Buddhism.
Switching religions is more commonplace in the United States than in Europe. California, the "Coast of Dreams," which draws those who feel constrained in other, more religiously claustrophobic parts of the country, has demonstrated a great tolerance for all forms of spiritual adventure. The first commandment in the Golden State is to seek out the belief system that suits you best. If the appeal of your parents' religion has faded, California offers an alternative.
The insurgent Beat Generation writers of the 1950s were responsible for introducing Buddhism onto the American religious scene. It suited their antiauthoritarian, revolutionary streak that Buddhism had no patriarchal God presiding over all things; so did its doctrine that everything is part of a grand order of things.
Of course, the Beats could never have foreseen the sway that Buddhism would hold over hierarchical and strictly conservative Hollywood. But at least the Dalai Lama seems to have grasped the involuntary absurdity of the film industry. When he first met Gere in the early 1980s, he asked the star whether he actually felt the emotions he portrayed on screen. Gere replied that this made them appear more credible. His holiness burst out laughing. Evidently the acolyte is still mystified by his master's amusement.