Kyabje Chogye Trichen Rinpoche on Thukdham
By Tenzin Choephel, Phayul, January 24, 2007
Kathmandu, Nepal -- His Eminence Chogye Trichen Rinpoche, Ngawang Khyenrab Thupten Lekshe Gyatso who passed away at the age of 87 on Monday at around 6 AM at his Drubkhang residence in Narayansthan, Kathmandu is currently on 'Thukdham', a stage of life after death where the body lies in meditative state without decomposing and is commonly practiced by high lamas of Tibetan Buddhism after death. It is also said that during that period the body maintains the inner air and maintaining this sate of body after death is only possible with divine people with spiritual powers.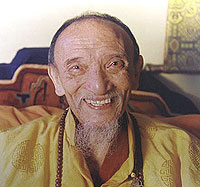 << Chogye Trichen Rinpoche, 1920 - 2006
The general public is not allowed to disturb his 'Thukdham' at present, it is normally not possible to know the exact duration of 'Thukdham', in normal circumstances the period is said to be from 3 – 7 days. After the 'Thukdham' period his body would be brought from the residence to his Jamchen Monastery in Boudha and general public would be allowed to offer their condolences and butter lamps.
According to Ven. Jampa Losel of Janchen Monastery, "it is big loss for the whole community of Sakyapa Sect of Tibetan Buddhism, actually there was some indication of his demise during our annual prayer session in Lumbini. We normally offer 'tenshuk' to him every year but this year he was reluctant to accept the 'tenshuk' and it was only after insistence by His Eminence Sakaya Trizin that he accepted it, but we did not know the reason why he was reluctant, now we know it was some kind of indication from him that he was preparing to leave us.
Tomorrow Sakya Dungse Rinpoche and some other important lamas would come from India and after the Thukdham period is over, his body would be brought to our monastery for cremation". He also said that even many of Rinpoche's local Nepali students of ethnic Nepali nationality have come to the monastery and offered their assembly prayer.
His Eminence Chogye Trichen Rinpoche, Ngawang Khyenrab Thupten Lekshe Gyatso was born in Shigatse, Tibet in 1920. At the age of 12 His Eminence was officially enthroned at the Phenpo Nalendra Monastery in Central Tibet from where he completed his studies and mastered the monastic scriptural rituals, the rituals of Mandala, and the musical accompaniment of the rituals. His Eminence is a master in both Sutrayana and Mantrayana teachings. His Eminence is also a great scholar of literature, poetry, history and Buddhist metaphysics and a highly accomplished poet.
In 1959, after Chinese occupation of Tibet, His Eminence left Tibet for Mustang, where his sister was married to the King of Mustang. For several years from 1962, in accordance with the wishes of His Holiness the Dalai Lama, His Eminence acted as the Secretary General of the Council for Religious and Cultural Affairs of the Tibetan Government in Exile in Dharamsala, India.
In 1969, His Eminence took leave from the Tibetan government and returned to Nepal to rebuild the Nalendra monastery and the Seat of the Tsharpa school in exile. His Eminence has founded two monasteries in Nepal, the Tashi Rabten Ling Monastery in Lumbini, the birthplace of Lord Buddha and the Jamchen Lhakhang Monastery in Katmandu.
His Eminence has also founded a Tsharpa retreat center at Lo Gekar in Mustang. He was the head of Tsharpa branch of the Sakya Tradition of Tibetan Buddhism. He also had many students in different countries and had traveled to many countries like USA, Canada, Spain, Hong Kong, Taiwan, Japan, Australia etc.