Dharma Master Cheng Yen to Receive 24th Niwano Peace Prize
PRNewswire, Feb 27, 2007
TOKYO, Japan -- The Niwano Peace Foundation announced today it will award the 24th Niwano Peace Prize to Dharma Master Cheng Yen of Taiwan, the founder of the Buddhist Compassion Relief Tzu Chi Foundation.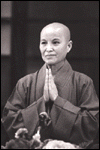 An award presentation ceremony will take place in Tokyo, Japan, on May 10. Mr. Rei-Sheng Her, spokesman for Master Cheng Yen and the Tzu Chi Foundation, will represent her at the event. In addition to an award certificate, Master Cheng Yen will receive a medal and 20 million yen.
Master Cheng Yen was born in 1937 in a small town in central Taiwan. In 1963, the most venerable Master Yin Shun accepted her as his disciple, teaching her to be committed to Buddhism and to all living beings. In 1966, she established the Tzu Chi Foundation. With a mission of "humanizing Buddhism and bringing bodhisattvas into this world," Master Cheng Yen and the Tzu Chi Foundation have worked in four major areas - charity, medicine, education and culture. The Foundation, starting with just 30 members, has now recruited millions of volunteers in 231 offices in 40 countries. Every
day close to 100,000 volunteers carry out the Master's teaching to help the
poor and spread compassion to every dark corner of the world.
In selecting Master Cheng Yen as an awardee, the Niwano Peace Prize Committee commented: "As a woman and spiritual leader, who despite her very modest beginnings, has improved the quality of life of thousands of people through her integration of spirit and action, Master Cheng Yen is a worthy recipient of the NPP."
About the Niwano Peace Prize
The Niwano Peace Prize was established in 1983 to honor individuals and organizations that have contributed significantly to inter-religious understanding and cooperation, thereby furthering the cause of world peace. To avoid undue emphasis on any particular religion or region, nominations are solicited from people of recognized intellectual stature around the world.
About Niwano Peace Foundation
The Niwano Peace Foundation was chartered in 1978 to contribute to the realization of world peace and the enhancement of a culture of peace. The Foundation promotes research and other activities based on a religious spirit and serves the cause of peace in such fields as education, science, religion and philosophy.