Seagal the peaceful action man
by Dianne Bourne, Manchester Evening News, March 1, 2007
Manchester, UK -- As if the sight of Hollywood action hero Steven Seagal singing live on stage at The Lowry were not surreal enough, I hear when he performs in the city later this month, the audience will be packed with Tibetan Buddhists.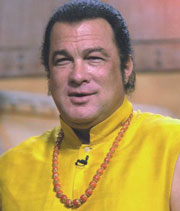 Steven will be showing off the musical side I bet you never knew he had on March 14 in Salford, and his visit to the city has been causing much excitement among our Buddhist community.
For while Steven is more familiar as the gun-toting star of action movies like Above The Law and Under Siege, in real life he's a peace-loving Tibetan Buddhist, so highly regarded he's achieved the title of `lama' - a teacher or guru of the religion.
I hear that Steven has worked closely with former Manchester University lecturer Dr David Stott, an expert in Tibetan Buddhism, and will meet up with him again after his Salford Quays gig.
Around 200 fellow followers of the spiritual movement are also expected at The Lowry for the show.
Big influence
Show promoter Alan Wise, who is also a Tibetan Buddhist, tells me: "Dr David Stott is a world famous authority on Tibetan Buddhism and was a big influence on Steven Seagal, and so will be supporting him at his show at The Lowry. David is also the leader of a Manchester group of Tibetan Buddhists, and so many of them will also be at the concert.
"It might surprise people that Steven, this expert of martial arts who uses them to such devastating effect in his movies, is actually a very peaceful man who follows Tibetan Buddhism."
His music may also surprise people more familiar with his hard man roles. He's a skilled guitarist and writes songs, and will be showcasing his blues style with his band Thunderbox on stage at The Lowry.
He's got a fair few celebrity fans in Manchester as well - I hear among the guests expected alongside the Buddhists in the audience will be Coronation Street stars Ryan Thomas (Jason Grimshaw) and Tina O'Brien (Sarah Platt), and New Order bass guitarist Peter Hook.
Steven Seagal and his band Thunderbox are at The Lowry on Wednesday, March 14, for tickets, contact the box office on 0870 787 5780.