Nobel Peace Prize-nominated Maha Ghosananda passes away
THE ASSOCIATED PRESS, March 13, 2007
NORTHAMPTON, Mass. (USA) -- Maha Ghosananda, a Nobel Peace Prize-nominated monk who rebuilt Buddhism in Cambodia after the fall of the Khmer Rouge, has died.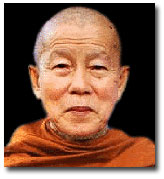 << Somdet Phra Maha Ghosananda (1929 - 2007)
Ghosananda, who lived in Leverett and Providence, R.I., was believed to be in his late 70s. He died Monday at Cooley Dickinson Hospital, said Christina Trinchero, a hospital spokeswoman. Trinchero did not know the cause of death or his age.
The Cambodian monk lived in exile between 1975 and 1979, when the Khmer Rouge denounced Buddhism and killed nearly two million people through starvation, disease, overwork and execution.
Ghosananda was one of the first monks to return to Cambodia and train new Buddhist leaders after Pol Pot's regime was toppled by the Vietnamese in 1979.
"He did everything he could to restore Buddhism to Cambodia," said Jim Perkins, pastor of the Leverett Congregational Church and a friend of the religious leader.
Ghosananda was elected a Supreme Cambodian Buddhist Patriarch by fellow Buddhist monks in 1988 for restoring Buddhism in the war-torn country.
During the 1990s, he lead the Dhamma Yatra movement to rebuild religious life in Cambodia.
He moved to western Massachusetts in the late 1980s at the invitation of the Nipponzan Myohoji Buddhist order in Leverett, which seeks a complete elimination of weapons, and was nominated for the Nobel Peace Prize three times in the mid-1990s.
More about Maha Ghosananda
Wikipedia
http://en.wikipedia.org/wiki/Preah_Maha_Ghosananda