Maha Ghosananda, Called Cambodia's Gandhi, Dies
By DENNIS HEVESI, New York Times, March 15, 2007
Leverett, Mass. (USA) -- The Venerable Maha Ghosananda, a Buddhist monk who led the rebuilding of his religion in Cambodia, calling for peace and reconciliation after the overthrow of the Khmer Rouge in 1979, died Monday in Northampton, Mass. He was in his late 70s and lived in Providence, R.I., and Leverett, Mass.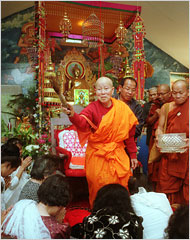 << Carol Lolis/Daily Hampshire Gazette, via Associated Press
Maha Ghosananda, a Buddhist monk, at a temple in Leverett, Mass.
The death was confirmed by Christina Trinchero, a spokeswoman for Cooley Dickinson Hospital in Northampton.
Cambodian monks elected Maha Ghosananda (his monastic name) as a supreme Buddhist patriarch in 1988. By then, his efforts to bring solace to a nation in which more than 1.5 million people were starved, worked to death or executed under the Communist dictatorship of Pol Pot had inspired many to call him "the Cambodian Gandhi."
In his 2002 book "The Future of Peace: On the Front Lines With the World's Great Peacemakers," Scott A. Hunt, a professor of Buddhism at the University of California, Berkeley, wrote that Maha Ghosananda's ability to forgive those "responsible for the murder of his entire family is incomprehensible," until one heard his explanation of Buddhism.
Maha Ghosananda said he "does not question that loving one's oppressors — Cambodians loving the Khmer Rouge — may be the most difficult attitude to achieve," then added, "But it is the law of the universe that retaliation, hatred and revenge only continue the cycle."
Reconciliation, he continued, "means that we see ourselves as the opponent; for what is the opponent but a being in ignorance, and we ourselves are also ignorant of many things."
Somdet Phra Maha Ghosananda was born in Takeo, Cambodia, in 1929. He was initiated into the Cambodian Buddhist Order in 1943. In 1969, he received a doctorate from Nalanda University in Bihar State, India.
He was living in a monastery in southern Thailand when a five-year civil war ended in Cambodia in 1976, with Pol Pot establishing what he called Democratic Kampuchea. Within days, almost the entire population of Phnom Penh, the capital, had been marched into the countryside to do forced labor. The Khmer Rouge closed about 3,600 Buddhist temples throughout the country. By the time Vietnamese forces overthrew the regime 44 months later, only about 3,000 of Cambodia's 60,000 Buddhist priests were still alive.
By then, Maha Ghosananda had already trekked from one refugee camp to another along the border with Thailand, establishing Buddhist temples and training new monks. He continued that work throughout the country after the ouster of Pol Pot.
Maha Ghosananda moved to Massachusetts in the late 1980s at the invitation of a Buddhist order in Leverett. But in 1991 he returned to Cambodia to lead a 16-day pilgrimage across the country — gathering followers from village after village — in the first of what became known as the Dhammayietra Walks for Peace and Reconciliation.
In 1998, the Niwano Peace Foundation of Japan awarded Maha Ghosananda its peace prize, saying in its citation that "through these walks, Maha Ghosananda became a bridge of peace — bringing together people who had been separated by war — and wiped away their fears with his call for peace."
Pointing out that Maha Ghosananda had promoted nonviolence as a remedy for other causes, including deforestation and the use of land mines, the foundation also said, "In both spirit and deed, he has shown the way to a fundamental resolution of regional and ethnic strife around the world."