From celebrity to austerity
By FOONG WOEI WAN, The Straits Times Singapore / Asia News Network, March 14, 2007
When former China actress Chen Xiaoxu became a nun, she left behind a multi-million-dollar business and a palatial Beijing home.
Beijing, China -- FORMER China actress Chen Xiaoxu has always been good at walking away from things. In the 1980s, she won overnight national fame for her TV debut as Lin Daiyu, the emotional, bookish beauty from the Chinese literary classic, A Dream of Red Mansions.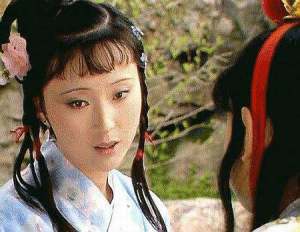 << Period heroine: Chen Xiaoxu made a name for herself playing Lin Daiyu, the emotional, bookish beauty from the Chinese literary classic, A Dream of Red Mansions.
But after a second role in an adaptation of the Ba Jin trilogy – The Family, Spring and Autumn – she decided she wasn't cut out for acting. She quit showbiz.
In the 1990s, she transformed herself into a successful businesswoman, a shining example of New China's get-rich-quick generation.
She and her husband Hao Tong ran an advertising company which reportedly made 200 million yuan (RM89.7mil) a year. She bought a palatial home in Beijing.
Now 42, she has shrugged it all off again, this time to become a Buddhist nun.
On Feb 23, she took her vows at a temple in Changchun, north-east China.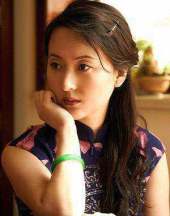 "I suddenly discovered my parents had become older, weaker, since I didn't know when, as if they could leave me at any time." -- CHEN XIAOXU, on the soul-searching which led her to Buddhism >>
Hao, a cinematography graduate of the Beijing Film Academy, announced that he, too, would become a monk.
Their company would be handed to Chen's sister, said reports. Their decision was unexpected, even to their mentor, Taiwanese monk Ching Kung.
He said that China needs young Buddhist teachers and he hopes to cultivate at least 10, who will do it wholeheartedly and full-time.
So he was pleased when he called Chen and she told him about the couple's decision, though he had not expected them to make up their minds "so speedily".
"I didn't expect her husband to become a monk, too. They're coming together," Ching recalled with a laugh.
'''Good, come together,' I said."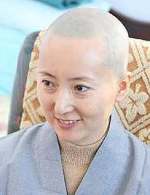 << A new life: Chen Xiaoxu took her vows to become a Buddhist nun on Feb 23 at a temple in Changchun, north-east China.
He added: "Her business is doing well and she's giving it up. So this is for real."
Fame and fortune
Born in north-east China, Chen was 18 when she found out about a casting call for a TV adaptation of Cao Xueqin's Qing dynasty family saga, A Dream of Red Mansions.
The novel, first published in 1791, had been turned into TV serials and films in China, Hong Kong and Taiwan, although none of the productions was as painstaking as what Chinese broadcaster CCTV was then planning.
Chen knew she would be right for the lead role of Lin Daiyu, she said in a 2005 interview with China's People in Focus weekly magazine.
She was frail and a voracious reader then, just like Lin. So she went to the director and submitted a photo of herself, with a poem she had composed copied on the back.
It worked. She got the job because "the director felt the person playing Lin Daiyu should be a poet herself".
The serial took three years to make but was a huge hit upon its premiere in 1987. It has since been broadcast in China more than 700 times.
Chen's second TV show, based on the Ba Jin trilogy, was less successful, so she quit.
"First, I felt I didn't have as much acting talent as other people. Second, I started out on too high a note," she told the magazine, referring to the success of her debut.
It was trendy for the Chinese to live in the United States in the 1980s, and she tried to move there, too. She studied English and, on a friend's advice, flew to Germany to try to apply for a visa to the US from there.
But after three months in Germany, she headed home.
In 1991, she stumbled into advertising. An agency was looking for someone to set up an associate production company and head it. She was hired.
Her first client was a pharmaceutical company whose boss told her: "I know Lin Daiyu wouldn't lie to me."
For years, she concentrated on making money, then spent it on her parents.
The turning point came when it hit her one day that she could not buy her family real happiness. Her career was consuming her and left her with less time and patience for her parents.
"I suddenly discovered my parents had become older, weaker, since I didn't know when, as if they could leave me at any time," she said.
"And what have I given them? What can they take with them?"
This soul-searching led her to Buddhism.
Chen had an epiphany in 1999 when she was in a friend's car and happened to hear a cassette tape of the Venerable Shi Ching Kung's lecture on the Infinite Life Sutra.
She flew to Singapore to meet him when he spoke there, and became his disciple.
As she made progress with her Buddhist texts and meditation, "failure and success became unimportant".
She said in her 2005 interview: "I hope for my life to pass like running water and enter an especially tranquil state: I'll read, write, be near nature."
And now she is doing just that.
In a recent statement – signed "Miao Zhen", her new name as a nun – she said she would devote the next decade to studying Buddhism in seclusion.
When she next meets Hao, they will not be man and wife – just fellow Buddhist students.
"We'll definitely appear in public. We'll be engaged in the work of Buddhist education," said Hao.
There was talk that Chen had breast cancer, which Hao confirmed to the newspaper.
But in her statement, Chen would only say she was "slightly ill".
Of her new mission, she declared: "I'm taking the most important, most correct path of my life. Becoming a nun is not negative, it isn't shunning the world. It's a more positive choice of life."