Monk with a heart of gold
By MAJORIE CHIEW, The Star, March 24, 2007
He was a shy and mysterious monk but over the years, Ven Rev K. Sri Dhammaratana Nyaka Thera has become a national personality with his dynamic and steady determination.
Kuala Lumpur, Malaysia -- FIFTEEN years ago, by chance or destiny, I crossed paths with a Sri Lankan monk at the Buddhist Maha Vihara in Brickfields, Kuala Lumpur. He remembers me for covering the story of a children's Wesak Day party in 1984.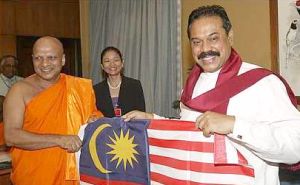 << Proud moment: Ven Rev K. Sri Dhammaratana giving a Malaysian flag to President Rajapaksa at the Presidential Palace in a special endorsement audience in Colombo on March 12.
Over the years, I got to know him little by little – from resident monk to chief monk to the Chief High Priest of Malaysia.
Rev Dhammaratana, 58, is a gentle soul, caring and attentive. He keeps himself busy with social work.
He was born in Kirinde, Sri Lanka, on July 24, 1948. At 17, he was ordained a monk by the then Chief High Priest of Malaysia and Singapore Ven Dr K. Sri Dhammananda Nyaka Thera.
Second of five siblings, he was the only one who entered the monkhood. Born into a traditional Buddhist family, his father was an ayurvedic doctor and his mother, a housewife. He was 16 when his father died.
When he was eight, his family took him on a pilgrimage to Buddhist holy sites in Sri Lanka. After the trip, he wanted to remain in the temple. His mother told him that he was too young to be a monk.
A year later, his parents made a commitment to let him be a monk someday.
When he was 17, his uncle, Rev Dhammananda, then chief abbot of the Buddhist Maha Vihara in Brickfields, visited his mother and asked for him. She knew it was time for her son to answer his calling.
Shortly after Rev Dhammaratana was ordained, the Chief Reverend returned to Malaysia while he went to study at Sunetira Devi, Sri Lanka Sangha Training Centre and later to Parama Buddhist International University where he graduated.
In 1976, on a trip back to Sri Lanka, the Chief Reverend asked Rev Dhammaratana whether he would like to go to Malaysia to be a monk and he agreed. On March 8, 1980, he was invited to the Brickfields temple as there was a shortage of monks.
Rev Dhammaratana was installed as chief monk of the Maha Vihara in Brickfields on Oct 8, last year. He replaced Rev Dhammananda, who died on Aug 31 at the age of 87.
On March 12, Rev Dhammaratana was officially appointed as the Chief Sangha Nayaka (Chief High Priest of Malaysia).
The same evening, Sri Lankan President Mahinda Rajapaksa endorsed him as "the Buddhist Ambassador of Malaysia".
In his new position, he is busier than ever.
His day starts at 4.30am and ends at 10.30pm but these days, he calls it a day at 1am sometimes.
"I read Dhamma books and go for house blessing. Sometimes, I am called upon by devotees for favours such as recommending their children to certain schools or helping them in their low-cost housing application."
"I have strong faith and know the value of being a monk. I didn't really understand much about life but now, I know the value of a monk's way of life. I put Buddha's teachings into my daily life," he said.
He remembers 1984 as a "career milestone" for him when he was tasked to organise a children's party.
He had invited about 4,000 children from various homes and schools but the committee did not have the money for the party.
When he called Chong, a devotee, for help, he was given a blank cheque.
His confidence grew and from then on he began to get organisers and sponsors. When the party was over, he returned the cheque to its owner without cashing it.
When he felt the lack of dedication among the local Buddhist community in social welfare activities, he knew he had to act.
Gathering a group of volunteers, he started his project, the Ti-Ratana Welfare Society on Sept 2, 1994. Today, he is the founder and spiritual adviser of the society.
In 1996, a three-storey building was acquired through the generosity of a donor and the Ti-Ratana Children's Home was set up. The orphanage started with 12 children and now it has 190. Ti-Ratana also run an old folks home and a shelter for abused and unwed mothers.
When Rev Dhammaratana has time to spare, he likes to play with pets and his "children" in the orphanage.
He has a big heart for animals too. He rescued more than 40 stray dogs and a monkey which were to be killed and housed them in the home's premises.
What's his philosophy in life?
"Be sincere. If you are not sincere, you can cheat yourself but you can't cheat the whole world. Also, if you have confidence, you will succeed."