In a cave no more: Buddhist nun on world fund tour
By David O'Reilly, Philadelphia Inquirer, April 24, 2007
After 12 years in the Himalayas, Tenzin Palmo promotes women's communities. She visits Philadelphia next.
Philadelphia, PA (USA) -- What is the sound of a Buddhist nun sitting alone for 12 years in a Himalayan cave? "Quiet," Tenzin Palmo recalled last week. "Never boring. And very beautiful."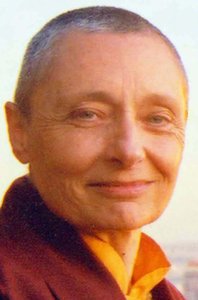 << Tenzin Palmo, a 64-year-old Buddhist nun , is traveling the world to raise funds to build a religious community for women in India.
CHRYSANNE STATHACOS
The phone line from Vancouver fell silent for a moment.
"I wasn't planning to do 12 years," she continued. "But it was the ideal place to practice" meditation. "So, I just stayed there."
"There" was a space both tiny and vast, like the self Buddhists seek to know.
Palmo's cave near the Tibetan border was so small she slept sitting up, her legs folded beneath her as in meditation. Beyond lay snowcapped mountains and mist-filled valleys sweeping to infinity.
"It was the perfect environment for carrying on one's spiritual practices," said Palmo, 64, who has since become a leading transmitter of Tibetan Buddhism to the West and a star in some eastern Buddhist countries.
She will speak Wednesday and Thursday evenings at the Philadelphia Shambhala Center in Center City.
When she climbed down from her "perfect environment" in 1988, however, she returned not to a welcoming community of nuns, but of monks.
It was no surprise.
Born Diane Perry in London in 1943, Palmo had become a Tibetan Buddhist at age 18 and moved two years later to study in northern India. She soon discovered how few nuns are in the 1,200-year-old Tibetan Buddhist tradition.
"Everything I read in those days was about monks, monks, monks," she recalled with a laugh.
Worse, women who did commit to Tibetan religious life typically found themselves kept uneducated and "waiting on the monks" as cooks and housekeepers.
Perry - who had wanted to be a nun since age 10 "even though I didn't believe in God" - was undeterred.
She shaved her head and submitted to ordination in 1964 - one of the first Western women ever to do so - and later served as secretary to her lama, or (male) teacher, before heading to her snow cave in 1976.
But after she returned, she discovered the winds of feminism reaching even the high Himalayas. Her lama, Khamtrul Rinpoche, asked her several years later to create a separate religious community nearby for women.
Palmo - known in her community by then as "venerable" - agreed.
Since then, she has been traveling the world to raise funds for what has become the Dongyu Gatsal Ling nunnery in Himachal Pradesh, India, which opened the first of its many doors in 2000.
The site, about 40 miles from Dharamsala, home of the Dalai Lama, houses 52 women, she said, but "we are building for 130."
"She's important because she's absorbed the great teachings of Tibetan Buddhism and communicates them through a Western mind," said Christopher Sohnly, a member of the Shambhala Center's visit committee, which invited Palmo to Philadelphia. Her efforts to promote women's religious communities have also made her "a pop star in places like Taiwan," Sohnly said. She was the subject of 1999 biography, Cave in the Snow, by Vickie MacKenzie, and published Reflections on a Mountain Lake: Lessons in Practical Buddhism, in 1999.
Palmo will continue on to New York City and then to Mexico before returning to her home near India's borders with Tibet and Nepal.
Palmo said she had "no idea" of how much money she had raised so far, but lamented that the project has taken far longer than she ever anticipated.
"Construction prices are skyrocketing way beyond our original estimates," she said. Although the builders use some steel girders and light machinery, "every stone is chipped by hand and carried on someone's head."
Because "it was more important to have a place to live," the site still awaits construction of a retreat center and a traditional temple.
Members of her community study Buddhist philosophy and rituals, learn Tibetan and English, and meditate. "Our goal is that some of the women will themselves become teachers of philosophy," Palmo said.
Northern India has been home to many Tibetan Buddhists since the 1950s, when Chinese Communists took over Tibet and destroyed thousands of monasteries, forcing the young Dalai Lama - Tibet's spiritual and temporal leader - into exile.
She described him as "extremely supportive of the nuns' movement," adding that "most of the other high lamas are becoming appreciative of the value of female input."
Vietnamese, Korean and Taiwanese Buddhism all claim large and vibrant female religious communities, according to Palmo, and Tibetan Buddhism once was more accommodating of its women religious, some of whom lived as esteemed hermits.
"It's a lineage we hope to restore," she said.
Her 12 years in the cave "feel like another lifetime now," she said, but she is "extremely grateful to have been in such a wonderful place."
The goal of prolonged isolation such as hers is not necessarily an "explosive illumination," she said, but to "understand who we are" and "open our hearts to other beings."
She laughed when asked whether her years in the cave had changed her. "You would have to ask the people who knew me before," she said.
She laughed, too, when asked whether she was thought to be the reincarnation of some previous great teacher.
"No, no, no," she said. "I'm just a nun: not a lama, not a scholar, not a yogini," she said.
"I'm nothing."
If You Go
Tenzin Palmo will speak at the Shambhala Center, 2620 Sansom St. in Philadelphia, on Wednesday and Thursday starting at 8 p.m. Admission for the Wednesday program, on the "Dance of the Dakinis," is $25. Admission for the Thursday program, "Working with Negative Emotions," is $15. For more information, call 215-568-6070.