Still many an obstacle in their path
Sunday Times, April 29, 2007
Daleena Samara in conversation with Bhikkuni H. Supeshala, one of the winners of the 2006 United Nations Award for Outstanding Women in Buddhism in Southeast Asia
Colombo, Sri Lanka -- Standing at a crossroad at Pita Kotte, Bhikkuni H. Supeshala looks like any other member of the female Sangha. But there is determination in her voice and fire in her eyes as she advocates the right to education assistance for Sri Lanka's order of bhikkunis.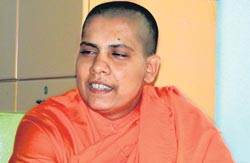 << Bhikkuni Supeshala: Striving for the betterment of the bhikkuni shasanaya
She is not your average bhikkuni. She was among the first batches of women in Sri Lanka to become a 'high ordained' nun, and she was named among the Outstanding Women in Buddhism in Southeast Asia in 2006 by the United Nations. This year, she successfully completed a Master's Degree in Buddhist Studies from the University of Kelaniya. Involved not just in teaching the dhamma and in doing community service, she is a strong promoter of the elevation of the status of bhikkunis in Sri Lanka so as to enable them to make a significant contribution to society.
Women have been a source of strength to Buddhism in Sri Lanka. "If not for a woman, the Sri Maha Bodhi may not be standing today in Anuradhapura," she says. Bhikkuni Sanghamitta, daughter of Emperor Asoka of India, brought two key resources to Lanka. The first was a sapling of the Bodhi tree under which the Buddha attained enlightenment, and the other, the establishment of the Bhikkhuni order in Sri Lanka. Similarly, if not for a woman, the sacred relics of the Buddha now enshrined in the Dalada Maligawa, may not have been brought to Lanka.
"During the Anuradhapura Period – the Golden Age of Buddhism in Sri Lanka -- tens of thousands of bhikkunis played an active role in spreading Buddhist precepts throughout this island. Historical records exist of the valuable contribution they made to society by not only spreading the dhamma but also working among the people as nurses and teachers."
The pace for such a movement was set within the highest echelons of the land. But the passage of time has not dealt kindly for the bhikkunis of Lanka. Today, bhikkunis (as high-ordained Buddhist nuns are called) are few in number. Only 400 or so exist along with about 2,000 samaneris, (junior nuns or dasa-sil matas) who aspire to become fully-ordained nuns.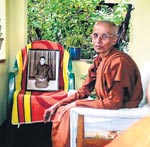 The head bhikkuni and principal, Bhikkuni Phadukke Sumithra of the school for bhikkunis >>
Fortunes changed for the bhikkunis after the fall of Anuradhapura to Cholian invaders, she says. "The Polonnaruwa period was a time of strife and pestilence with scarcity of food and foreign invasions. Both the bhikku and bhikkuni orders were affected and it is even said that the monks had to struggle for survival. The bhikkuni order disappeared during this time.
"In the 5th Century, an eminent bhikkuni took 10 nuns to China in an attempt to re-establish the order of high-ordained nuns. However, because the nuns were ordained under the Mahayana tradition, they were not recognised in Sri Lanka, a bastion of Theravada Buddhism," she adds.
"In 1998, a group of 20 nuns were taken to India where they were ordained as bhikkunis in a ceremony organised in Bodhgaya by the Fo Kuan Shan temple of Taiwan. Because they were ordained as Theravada bhikkunis, they were accepted by Sri Lanka. Ordinations have been carried out annually ever since. Subsequently, a centre was set up in Dambulla to provide bhikkunis with the required final three month-training for a high-level ordination. Bhikkunis are now ordained in Dambulla."
"A high-level ordination is not the same as the sil-mata, who are ten-precepts nuns," Bhikkuni Supeshala points out. "A high-ordained bhikkuni abides by more than 300 precepts or rules. The three-month training for high-ordination is a remarkable experience which requires deep daily practice. Prior to that, there is a five-year period of training."
China has a very strong bhikkuni order with a history going back to the 5th Century. The order of Theravada bhikkunis had died elsewhere in the world during this time. Since the order was re-established worldwide in 1998, the number of bhikkunis in Sri Lanka has grown. However, whilst we get help and support from individual temples and monks, the facilities afforded to bhikkus, especially education assistance, are denied to the bhikkunis so much so that we have to struggle to get even a basic pirivena education," she says.
"In general, there is also an attitude that women are subordinate to men. As a result, although the bhikkuni order has been re-established, the hierarchies at the highest level do not give us the recognition or the support we need to become educated so that we are fully functional members of society," she says.
The school for bhikkunis in Mileriya, Horana is a good example of this struggle, she points out. This makeshift school was established in the meditation hall of the centre in 2000 because the only school that existed in Dambulla was too distant for students to travel to. The head bhikkuni and principal, Bhikkuni Phadukke Sumithra, established the school for 25 nuns. A letter she wrote to the Ministry of Buddhist Cultural Affairs attempting to register the school as a College for Bhikkunis, was not replied. She then approached the Ministry of Education which informed her that they were unable to help her and advised her to get her request passed by Parliament. She did not pursue the matter any further, and has since then relied on donations and the centre's own funds to run the school.
Whilst Bhikkuni Phadukke Sumithra has three bhikkunis, all holders of Master's Degrees and who are her former students, to teach the subjects, she has to hire external teachers to teach subjects like English and Mathematics, which would require additional funding for salaries. She estimates that the salary of an external teacher would be at least Rs. 6,000 a month. Meanwhile, although the bhikkuni teachers do not require salaries, they need at least Rs.1,000 a month for travel expenses. Furthermore, the school sorely lacks teaching resources – for example, it does not have a single computer, and a few long benches and tables substitute for desks and chairs.
Whilst the authorities have turned a blind eye to her needs, Bhikkuni Phadukke Sumithra has been fortunate to get assistance from individual temples and monks who have donated textbooks and furniture. Due to the lack of resources, the number of students has dwindled to just 12.
Travel expenses for aspiring bhikkunis are another obstacle in their path to education. Because the school can only provide living space for 12 nuns, the other students who cannot afford the travel expense stay away. Many samaneris living in distant ashrams forego an education because they cannot afford to travel to school everyday. Nevertheless, Bhikkuni Phadukke Sumithra continues to carry out this service, even sacrificing her own needs to educate her students. She sometimes sells items gifted to her by devotees, like packets of milk powder and bed sheets, to help her students buy textbooks.
Once a bhikkuni or samaneri has completed her basic education at the pirivena, she has to find alternative sources of revenue to continue her education. If she is lucky, she finds a sponsor.
"I was sponsored by Madam Ranjini de Silva, who was also named Outstanding Woman in Buddhism in Southeast Asia," says Bhikkuni Supeshala. "I could not have gone so far without her; she was a mother to me. Still, education was a struggle. I remember crying over the lack of an important A' Level text book. A monk saw me crying and gave me the money to buy it. I often skipped meals to save money to purchase my school books. After undergoing all these hardships, I realised there may be many more who may be like me. My experiences made me determined to raise funds and find ways to help educate the younger generation of bhikkunis."
Bhikkunis have a significant contribution to make to society, especially to the women of Sri Lanka. As a woman, a bhikkuni has access to every Buddhist home, where she can talk to the woman of the house. There she can counsel and advise. There are so many women in remote rural areas of Sri Lanka who need the service of bhikkunis, she says.
"When I was attached to a pirivena in Ratmalana, I chanted pirith to every single pregnant Buddhist mother in the area. Other bhikkunis and I visit hospitals, prisons and centres to chant pirith and provide counselling services. Bhikkunis are valuable contributing members of society. But to make a useful contribution, they need to be educated. Then they can be counsellors to the illiterate, uneducated or troubled women."
"In Sri Lanka, the Sangha is strict about the bhikkuni order – there is a belief that the Maitreya Buddha has to appear before a bhikkuni order to be re-established in the world. So although the bhikkuni order in Sri Lanka has been re-established, we are not given due recognition. This is a waste of valuable human resources. We bhikkunis can be of such value to society."
"Our bhikkuni community has received help from individual temples and from priests. Many have been supportive. What we need is governmental support. On this Vesak Day, we the bhikkunis of Sri Lanka appeal to President Mahinda Rajapaksa and the clergy to invoke blessings on us. We would like to be recognised as valuable contributing members of the Sangha. We would like them to open their eyes and help us; we are not asking for much – all we are asking for is access to and assistance in getting an education that would help us to better serve society."