Dual life disrupted when therapist dons monk's robes
By Blair Anthony Robertson, Sacramento Bee, May 1, 2007
Sacramento, CA (USA) -- He's Stephen Walker to some and Lama Jinpa to others. It's the same mild-mannered, middle-aged man with the playful sense of humor and keen intellect, but it's still something of a double life.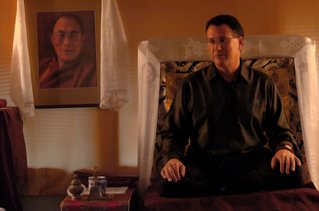 << Stephen Walker, a.k.a. Lama Jinpa, sits near a picture of the Dalai Lama while teaching a class at home in Sacramento. Walker is also a psychotherapist. Until recently, he was a monk with shaved head and robes, but his counseling practice plummeted and he felt isolated. Sacramento Bee/Hector Amezcua
It hasn't always been easy. Stephen Walker, 53, is a licensed psychotherapist with an office in midtown Sacramento, Lama Jinpa a Buddhist teacher who oversees the Universal Compassion Center in Arden Arcade.
Until a month ago, it was all too confusing to some. That's because in 2005, Lama Jinpa, a divorced father of two grown children, took the drastic step of traveling to India and taking the vows to become a Tibetan Buddhist monk.
That meant he would wear his hair cut close to his scalp, much like the celebrated Dalai Lama. A self-described clotheshorse, he had to sell or give away his entire wardrobe and his jewelry. He had to be celibate.
Most notably, he would don the traditional monk's robes during all waking hours.
His daughter and son were startled at first but supportive.
"I knew he was serious about the Buddhist thing. I mean, he's a lama and he's been a Buddhist for 30 years. But that just really cemented the fact that he had taken a different path. It was a shock," said Hilary Walker, 25, his daughter. She lives in Santa Fe, N.M., where she is an artist's assistant.
"My first thought was, he has to cut his hair -- and he loves his hair and he loves his clothes."
For some unwitting patients seeking counseling at his office on 18th Street, the sight of a man in exotic saffron robes was too much to overcome. They called their insurance providers and complained. They went elsewhere for therapy.
"They didn't want to see a monk. I found I was gradually losing my business," said Lama Jinpa, as he prefers to be called.
Over time, his office appointments dropped by half and his practice was reaching a crisis.
On a more personal level, the lama was lonely.
"There are no other lamas or monks in town so I didn't have any peers," he said. "A big part of being a monk is being in a communal setting and I didn't have that."
A month ago, after much introspection, Lama Jinpa informed the leaders at his monastery in India that he was giving up his status as a monk. He would continue to teach students and lead services as a lama while forsaking the more ascetic practices of a monk.
He gave his notice in the most modern of ways -- via e-mail.
"That was tough e-mail," he said, shaking his head. "I couldn't get to sleep and I eventually sent the e-mail at 3 in the morning."
The robes went into the closet. Lama Jinpa went shopping. Just recently, he went on a date -- to a play. The double life became clearer. He began rebuilding his practice.
Stephen Walker and Lama Jinpa were one with each other.
Before he discovered Buddhism, Steve Walker was a child of white, middle-class privilege in Scarsdale, N.Y. His father was an insurance agent who commuted by train to his office on Park Avenue. Steve went to Sunday school at a Presbyterian church and enjoyed it.
He lost his boyhood innocence in one sudden, shocking moment. When he was 11, his father committed suicide. It was a shotgun blast to the head and Steve saw the aftermath. His father, it turned out, suffered from bipolar disorder.
By his teenage years, Walker gravitated toward philosophy and religious studies, reading such weighty philosophers as Martin Heidegger and Immanuel Kant.
"I was the resident existentialist," he recalled with a smile.
When his mother remarried a year after the suicide, the family moved to Denver. Walker returned to the East Coast to attend Middlebury College, one of the nation's top private liberal arts schools. He earned a degree in philosophy and religion. He later pursued a master's degree at Naropa University in Boulder, Colo., but left in 1980 without completing the degree.
He married and settled in Nevada City. He worked as a vocational rehabilitation counselor. He also sold advertising for the Union, the newspaper in Grass Valley.
He earned a master's at the Professional School of Psychology in Sacramento and became a licensed psychotherapist in 2000. By then, he was a major figure in the area's Buddhist community.
The two-year period as a monk beginning in 2005 clearly wore on him.
"I wasn't getting to the gym," he said playfully. "That's another thing about this in the West -- people don't think lamas are real people."
A recent visit to his small office in a converted house in midtown finds the sign outside indicating Stephen Walker works there. But he introduces himself as Lama Jinpa.
Gone are the robes, replaced on this day with freshly pressed khakis, a short-sleeve buttoned shirt and tasseled loafers, which he removes when he sits back in the lotus position.
By any standard, Stephen Walker is an unusual lama and a highly unusual monk. He likes his lattes. He loves his clothes. He admits he likes to shop.
When he arrived at the Universal Meditation Center on Gladstone Drive a couple of days later, he was smartly dressed in black pants and black shirt. He dropped to the floor and bowed, then sat in the lotus position and addressed about a dozen members there for a class on Buddhism. The temple is actually a modest house in a working class neighborhood.
He began with a discussion about mindfulness -- and he had a clear, albeit uncomfortable example.
"Let's see," he said, addressing his students, "is the air on? It's a little stuffy in here."
To his right, was a large picture of the Dalai Lama, who would be visiting this past weekend in San Francisco. Lama Jinpa traveled to the city to greet the spiritual leader. He is expected to host the Dalai Lama in Sacramento in 2009.
After mixing some jokes with a serious discussion on wisdom, Lama Jinpa smiled and said, "People who are looking for a solemn lama are going to be disappointed. Others will be disappointed I'm not in robes."
He knows he will never be able to please all of the people all of the time, whether as Stephen Walker or Lama Jinpa. He is mindful of that and OK with it.