Famed Chinese actress dies after conversion to Buddhism
Xinhua News, May 17, 2007
SHENZHEN, China -- Chen Xiaoxu, a famous Chinese actress who converted to Buddhism earlier this year, has died of breast cancer in south China's Guangdong Province, local sources confirmed on Thursday.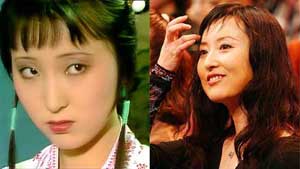 << This undated photo features former Chinese actress Chen Xiaoxu in famous Chinese TV series "Dream of the Red Mansion" back in 1980s. (File Photo)
Chen, 42, passed away at 6:57 p.m. Sunday in Shenzhen, according to an announcement on the website of the newly founded charity foundation named after her.
Her farewell ceremony will be held on Friday, said the announcement.
Wang Yuanfeng, Chen's aunt, recalled Chen pressing her chest in pain. "She was strong-willed and refused to go to hospital," she lamented.
Despite being diagnosed with breast cancer, Chen spurned western medicine, preferring to use traditional Chinese medical treatment, Wang said.
Born in Anshan City in northeast China's Liaoning Province, the comely Chen beat other contestants in 1985 to act the role of Lin Daiyu, heroine of the novel "A Dream of Red Mansions". A poem she wrote at the time brought her national fame.
Quiet and fond of literature, she has always been regarded as a "real Lin Daiyu" even after she quit the stage in 1991 and established her own advertising company in 1996.
"The character (Lin Daiyu) opened a window for me, but shut a door," Chen said -- the fame of the character was such that it was very difficult for her to get other roles in other TV series.
Chen was successful in business and was listed as an economic celebrity in 2005.
Even as actors and actresses began auditioning for a remake of "A Dream of Red Mansions", the low-key star stirred up a media buzz in February when she was tonsured and became a nun in Baiguoxinglong Temple in Changchun, capital of northeast China's Jilin Province. Her husband later converted to Buddhism as well.
"Lin Daiyu is not a worldly person, and neither is Chen Xiaoxu," said netizens on sina.com.
After Chen's death, over 9,000 netizens expressed their condolence on sina.com by press time, and some even composed poemsin memory of her. "Your soul journeyed west to listen to the chanting of sutras, who will bury the flowers now that the most gracious flower has left us?," said one netizen referring to a scene in the novel when the sentimental Lin buried withered flowers.
Contestants auditioning for the remake placed bouquets of white flowers in front of Chen's photo.
Other actors and actresses who had worked with Chen expressed their sorrow via phone calls or on their blogs.
Deng Jie, another actress who rose to fame in "A Dream of Red Mansions" TV series said that she would hold a gathering to mourn for Chen. "She will always be our sister Lin," Deng said.
The charity foundation, set up on Wednesday with an initial fund of 50 million yuan (6.4 million U.S. dollars), will help students from impoverished families and patients who cannot afford medical treatment.