The Buddhist leader who loves tolerance – and The Simpsons
by Michael Binyon, The Times, June 11, 2007
London, UK -- His website profile is that of many 24-year-olds. He likes the band Black Eyed Peas and action films such as Spider-Man; he watches the BBC news, The Simpsons and Lost, his heroes are Kevin Pietersen, Andrew Flintoff and Peter O'Toole and he would like to have met Elvis and Mahatma Gandhi.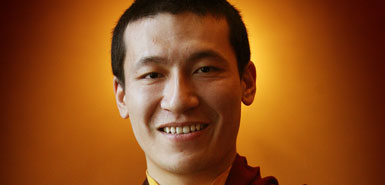 He includes on his MySpace blog film of his Mum and Dad, a gallery of his friends and comments and greetings from readers and admirers.
But this is no ordinary blog. The author is His Holiness 17th Karmapa Trinlay Thaye Dorje, otherwise known as the Black Hat Lama, one of the most senior and revered figures in Tibetan Buddhism.
His website was launched a week ago, timed to coincide with a three-day visit to Britain. And for the growing number of British followers there is something special: an e-blessing, in which Karmapa – poised, thoughtful and breaking into the occasional smile – blesses his followers, in perfect English, to the sound of bells traditionally used in Buddhism to symbolise wisdom.
It is, he admits, the language that a cyber-generation understands. He began a blog "because lots of students are keen to know what it is like to be a Karmapa". And so he tells them: "Status: single. Here for: friends.
Religion: Buddhist. Zodiac sign: Taurus. Smoke/drink: no/no. Children: love kids, but not for me."
"It's a common language now," he said. "You can really establish a connection and, through that, people can get to know more about Buddhism". He will update his blog regularly during a 12-week European tour that will take him to six countries to meet and teach his students. Numbers are growing rapidly and already there are 500 centres in the West.
Karmapa is said to be the seventeenth reincarnation of his lineage, and head of the Karma Kagyu school of Buddhism, one of four schools in Tibet. He was recognised as the reincarnation at the age of 11, and left for India and years of study, prayer and meditation.
He plays no role in politics. Since his activity is outside Tibet, relations with the Chinese are correct, if distant.
With the aura of centuries of tradition and mysticism, the Black Hat Lama is nevertheless a thoroughly modern religious leader who takes his global responsibilities very seriously. He began travelling only recently. His first visit to Britain was in 2005, to attend an inter-faith meeting at St Ethelburga's Centre for Reconciliation and Peace in London.
He finds the West's material wealth astonishing. What could Tibetan Buddhism offer it? "There is interest here in the development of the mind. In Asia, and especially those parts where Buddhism is established, that knowledge of the mind is great. It can break through all cultural and material differences. It can generate compassion and loving kindness."
Buddhism has made big strides in the West. Given its traditional tolerance and inclusiveness, was it possible for followers to embrace Buddhism while retaining another faith? "If one wants to commit onself, there are no barriers except to embrace the message. But promises should not be mixed, otherwise there will be difficulties".
Karmapa spoke to followers in London on Saturday – the first public meeting that he has held. He is still, as he admits, studying and learning – and has a shyness and modesty that are engaging. But he is no other-worldly monk. He likes watching sport, especially cricket. South Africa, his blog says, is his favourite team – a bold choice for a resident of India. But Karmapa does not lack courage or conviction. "Whatever life we are leading, we should do it without self-interest." That is the message to Britain and the blessing of his blog.
Tibetan faith
Although the smallest form of Buddhism, Tibetan Bhuddism is perhaps the best-known in the West, due to the plight of its followers under the Chinese occupation
Tibetan Buddhism has four branches: The Nyingma school, which is the oldest; the Sakya; the Gelug; and Karma Kagyu
In 1995, the Dalai Lama named six-year-old Tenzin Gyatso as the Panchen Lama. The Chinese rejected the choice and abducted him. In his place they appointed Gyancain Norbu
There are 400 million Buddhists in the world, 150,000 in Britain
The Theravada and Mahayana forms have the most adherents