Meditation is driving force as pro-golfer Rose starts to stand tall
by Owen Slot, The Times, July 19, 2007
London, UK -- Meet Nick Bradley. He is a former county champion swimmer who seriously considered a career as a stuntman before becoming a golf coach and, simultaneously, a practising Buddhist. He is also known as "Brash Bradley" because he does not shy from telling you how good he is.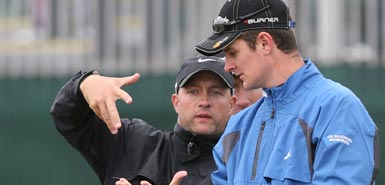 Some time last night, in a darkened room in their rented house in Carnoustie, he will have been telling Justin Rose how good he is. When Bradley started working with Rose 13 months ago, he taught him the powers of meditation. So they meditate together, for ten minutes every night of a tournament week, with Rose silent and Bradley filling his mind with thoughts for the day ahead.
This is just one example of what Bradley has brought to Rose, which has coincided with Rose's world ranking climbing from No 113 to 21. How much of that is down to Bradley? "A substantial amount," is Rose's answer. And this is Bradley's: "I've taken him to his highest-ever ranking so I'm clearly doing something right."
Significant here is the fact that Rose came to Bradley from David Leadbetter, who has long been regarded as one of the best two or three coaches in the business. It is also significant that Bradley learnt his trade as a coach in one of Leadbetter's academies. When Leadbetter started aiming a few verbal pot-shots at Bradley this summer, the Briton was inches away from returning fire but elected instead to take it all as a compliment.
He does, however, suggest that "there is a changing of the guard taking place". He also points out that Rose "had all the DNA of a champion but had started to falter" and the lesser-known fact that he took another Leadbetter pupil, Roger Winchester, and doubled seven years' worth of earnings in 12 months. If this sounds like Brash Bradley, Rose himself — who is charming and diplomatic and has none of the look-at-me tendencies of his coach — confirms: "I remember David saying, 'Everything's in place'. But obviously something was missing."
How did he find the missing ingredient? It came from a very Bradley-esque exchange. Over a number of years, Rose had got to know Bradley on the practice range, had asked him a few questions about his technique and been impressed with the answers. Early last year, though, Rose asked him another question and was informed that the days of free consultancy were finished.
"I told him, 'I want to be the best golf coach in the world'," Bradley said. "If someone has the balls to say that and you want to be the best golfer in the world, that strikes me as a pretty good fit."
And they have remained snug ever since, albeit a slightly odd couple, the 26-year-old Rose seemingly an establishment figure and Bradley determined to break out of the norm. "I'm not going to be indoctrinated into a 'this is how we've always done things' attitude," Bradley said. "I don't care about any other golf coaches. I want to stick my neck out."
So he told Rose that he was not interested in a typical, open-ended coach's contact; he would give himself two years to deliver. And he said that he was not a coach, he was a consultant. And there they were in June last year in Fort Worth, Texas, at their first tournament together with Rose meditating for the first time. "If you're in a dark room with a strange man and you close your eyes, who knows what could happen?" Bradley jokes. But Rose went with it.
Bradley then started delivering his tournament documents: for every event a 200-word document, "my own personal message to Justin", which varies from swing technique to attitudes and beliefs. For instance, before the US Open, at the punishing Oakmont course near Pittsburgh, he repeated a line from Walter Hagen: "Every time I go out to play, I expect to make six mistakes a round." As Bradley explained: "So when a mistake comes along, Justin doesn't beat himself up, it's one in the bag, one he expected."
One message that gives Rose particular confidence is: "We are as well prepared as anyone at the tournament." Being drawn to play with Tiger Woods did not affect the document for this week, Bradley said, and is an indication of the mentality with which Rose will approach the event. "We don't change our gameplan around golfers," Bradley said. "We expect more hullabaloo, but the bottom line is whoever we are playing with has nothing to do with the process of playing great golf. Nothing. So we're not even paying attention to it."
If there is a self-help, mumbo-jumbo element to some of this, here is the technical swing stuff. Under Bradley, Rose has readjusted to a shallower hip plane, has altered his spinal angle at address and worked on his transition from backswing to downswing.
But the thoughts that have been registering in that darkened room have had a significant impact. "In the past, I've gone to tournaments hoping I would play well," Rose said. "Now I feel I know I will. I've always believed I've had the talent, the hard part has been getting it out of myself and Nick's helping me. He's stopped me questioning myself.
"I know Tiger meditates a lot. For me, this has helped. The brain's a muscle, too, and it's something you've got to invest time in. It's as simple as relaxing, breathing, getting myself into a subconscious state where a lot of positive thoughts can sink in."
This is pure Bradley. "Don't tell me that Tiger doesn't look in the mirror and say, 'Tiger Woods, you are the best'," Bradley said. "Jack Nicklaus did the same."
In this interview with The Times, Bradley quoted Goethe and Muhammad Ali in one breath as examples of the power of positive thought and where it would take him. The Goethe quote — "Boldness has genius, power and magic in it. Begin it now" — clearly struck a chord. Boldness is in ample supply here. And he has undoubtedly passed it on.