Message for the masses
By Lee Tse Ling, The Star, December 20, 2004
Kuala Lumpur, Malaysia -- PRESTIGIOUS lineage aside, Ngawang Gehlek Rimpoche lives with his feet firmly planted in the modern world. Having walked in the shoes of the layperson, Rimpoche is adept at communicating with the busy urbanite.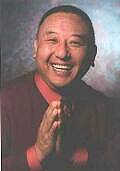 To quote Robert Thurman, Professor of Tibetan religion at Columbia University, New York (and incidentally, actress Uma Thurman?s father): ?Rimpoche carries their (Tibetan masters) message in a complete and authentic way and he enfolds it in an envelope of contemporary savvy from his wide experience of people all over the world, knowing where they're coming from, what they want and what they need.?
Rimpoche broadcasts his teachings live over the Internet, answering questions from the floor and from e-mails. Students ring him on his mobile phone for advice on all aspects of life, from karma to careers, and dating to death. He doesn't really get any time off. Being a spiritual leader is who he is, as opposed to a mantle he dons from 9 to 5.
He is quite proud of the fact that in the late 1970s, he was one of the first Tibetan teachers to come to Malaysia and demystify the religion, building bridges between symbolic gestures and true Buddhism.
?Buddhism is not a mystery. It is a life, and is meant for the individual to improve himself. Joss-stick is not just joss-stick. It is generosity ? you offer the light as an act of generosity. You offer incense for the satisfaction of certain physical things, not just burning smelly incense, but a beautiful, gentle, smooth smell that could even defeat Chanel No.5!? said the wise-cracker.
As he puts it, ?Ritual? Fine. Singing? Wonderful. Music? Beautiful. But today, everybody is living a life that has economic principals. You have to earn your living. Even the elections in the US is based on 30-second soundbite, so who has the time to sit and chant and be mysterious??
Instead one of the greatest needs of the world now is transparency and religious unity. Rimpoche constantly marvels at the tendency particularly prevalent in the West to put religions into small boxes, sealing and labelling them: Catholics, Christians, Muslims, Hindus, Buddhists or others.
?I think this is terrible. When Buddha shared his experience and explanation, he was talking to his world. Today the world is different; the world is small. It is a scientific and established fact that the movement of the butterfly in China makes a difference in the environment in the US. When you are small, there must be room for everybody.
?As a Buddhist teacher, it is my job to provide room, understanding, respect, and honour. Teachers are supposed to teach according to the needs of the people, according to the understanding of the people, rather than try to say my way is the high way.
?Each religion has its own unique qualities meant for the people they are serving, suited to their culture, ingrained in their tradition. They are all great. You cannot blame any religion for creating suffering. It is individual persons who have misunderstandings. A great example is the Muslim tradition which is based on love, compassion, caring, respect and honouring people but is misused by a few. It is time for us to stop all this. Spiritual teachers have their own duties and responsibilities, and that is to bring the people together; religions and their values are to be used as a humanitarian service.?
Rimpoche?s personal advice reads almost like a mantra: be kind to yourself, be kind to your family, be kind to others. Be helpful to yourself, to your circle, to your fellow countrymen. If you cannot, then don?t hurt, don?t harm anybody, your family, yourself.
His book Good Life, Good Death: Tibetan Wisdom on Reincarnation was released in 2001, and is available at major bookstores. Rich in understanding of popular culture, Rimpoche packages vintage Tibetan wisdom in a cosmopolitan box. His down-to-earth language and metaphors are relevant to anyone living in today?s modern world, regardless of spirituality.