Actress brings third annual Buddhist retreat to Rockport
by Gail McCarthy, Gloucester Daily Times, July 23, 2007
Gloucester, MA (USA) -- Lindsay Crouse, a film and television actress with roots in Annisquam, found a spiritual path that she wanted to share with Cape Ann residents.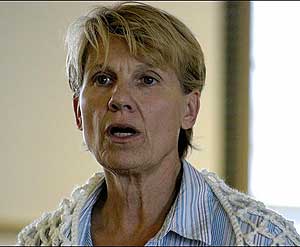 << Lindsay Crouse, a film and television actress with roots in Annisquam, found a spiritual path that she wanted to share with Cape Ann residents. Ben Laing
Nearly three years ago, she organized a Buddhist educational program to spread the knowledge and serenity Buddhism has brought her.
Her efforts met with a greater community response than she imagined. Now she is preparing for the third annual retreat at Windhover in Rockport from Aug. 20 to 26.
Only about 30 people had signed up three weeks before the first retreat in 2005.
"I had no doubt that there were many who would love the retreat, but I needed to get the word out. After an article in the local newspaper, 250 people called me in the next week and a half," she said. "It was an incredible response. But what really moved me were the stories that poured out of people to a complete stranger."
They shared with Crouse tales of family difficulties, the death of someone close, their inability to hold on to relationships, their confusion about what their lives meant, their need for a "timeout."
From that seed, a growing local movement has blossomed to include people of all faiths. Crouse is quick to say that practicing Buddhism can be just a piece of someone's spiritual practice and in no way excludes those who follow a particular religion. There is room for both, she said in a recent interview in Gloucester.
"I have often said that Buddhism took my Christianity out of the attic and shined it up," she said.
Crouse, an Academy Award-nominee for best supporting actress in 1984's "Places in the Heart," knows about stress, in part, from life as an actress in Los Angeles and Hollywood, and raising a family.
The first retreat sought to clear up any misunderstandings about the practice of Buddhism. Last year's retreat focused on compassion. The subject this year is happiness.
"Quite a lot has happened in the wake of the first two retreats," Crouse said. "Lama Brian Smith and folks on Cape Ann are now a mutual admiration society. He enjoyed his time teaching here so much, and holds his students with such high regard, that he has promised to come here three times a year. People responded with great enthusiasm to his warm, witty and masterful teaching style, and have found what he has to say immediately useful to their lives."
Smith is a renowned Tibetan Buddhist monk and a published Sanskrit scholar who has served as professor of comparative religion at Columbia University and professor emeritus of the same subject at the University of California at Riverside.
When Smith returned last December to teach for four nights at the Rockport Community Center, almost 400 people attended, a surprise considering the busy time of year.
After these teachings, Crouse hosted a salon at her house for those who wished to talk further about how to apply Buddhist principles to their lives.
"Sixty people crammed into my little living room in Annisquam," she said.
Paul McPherson of Gloucester, who is not a Buddhist, nonetheless was interested in the retreat and attended some of the events organized by Crouse.
"This is absolutely about learning," he said.
McPherson said he enjoyed the teachings by Smith, who could share his knowledge with a sense of humor and teach about finding happiness in life.
Crouse said her life has changed in the wake of her work here.
"For me personally, this is the fulfillment of a dream. Four years ago, I was sitting in a class in what was then the unordained Brian Smith's small apartment in Venice Beach, and it struck me that the place that I loved most in the world — Cape Ann — would be a wonderful place for him to teach," she said. "I love the people here and I love the spirit of the place, which has a particular sensibility that comes from living with the harsh winters, the rocks, the woods, the glorious summers, the light, the sea."
Crouse, a lifelong Annisquam summer resident, believes perhaps the austerities of this area make for a hard-bitten discipline in the residents here and render them "frank and real."
"But when summer wins out, or the light travels across the bay, there is a sense of magic. No one on Cape Ann would deny it," she said. "Everyone who lives here feels a deep devotion to this place. Discipline, devotion and a sense of magic are the most powerful elements of any spiritual path. So Cape Ann and Venerable Brian Smith have come together easily."
For information on the retreat, call 310-990-1425 or 978-282-4996, or email: windretreat@earthlink.net.