Thai golfer hopes stint as a monk will help him become a better player
By RIZAL ABDULLAH, The Star, August 22, 2007
JOHOR BARU, Malaysia -- During the Asian Tour's summer break, Thailand's Chapchai Nirat stayed in a temple for three weeks as a Buddhist monk, with the hope that it will help him gain brighter days in his golf career.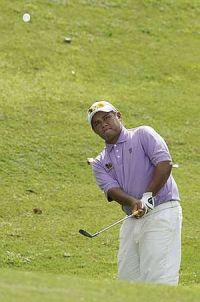 << Chapchai: The Thai needs to get the rust out of his game quickly if he wants to make any headway in the Iskandar Johor Open.
And he gets back into action in the inaugural US$300,000 Iskandar Johor Open, which begins tomorrow at the Royal Johor Country Club (RJCC).

The big-hitting Chapchai is one of the favourites to take the winner's purse of US$47,550. A win in Johor will keep the 24-year-old firmly in contention for the prestigious Asian Tour's UBS Order of Merit crown. He is now in fourth place with earnings of US$252,138.
"It is our belief that a man who is over 20 should become a monk as a show of respect to our parents," said Chapchai.
"I stayed in a temple for three weeks during the summer break and learnt to become a monk. The good thing I learnt as a monk was meditation, which has made me a better man now.
"I know a lot deeper now about meditation and it has helped me a lot to relax and control my emotions. I hope it will also help my golf."
Nicknamed "King Kong" for his booming drives, Chapchai broke through in a big way earlier this season by lifting the TCL Classic in China, becoming only the third Thai to win a co-sanctioned event. He has registered four other top-10s but as he enters the second half of the Tour, the Thai is some US$180,000 behind leader Liang Wenchong of China, who has bagged US$438,252.
"I hope to play well and shoot for many top five finishes and win one or two more events to move up the rankings. This would brighten my chances on the Order of Merit," said Chapchai.
Chapchai is also aware that having stayed away from golf for nearly a month, he needs to get the rust out of his game quickly if he wants to make any headway in the Johor Open.
Liang and Australian Scott Hend, a former US Tour regular, who is third in the ranking on US$332,460, are among the early favourites at the RJCC.
"I just started to practise recently but I have to get my game ready and be fit. I have to prepare myself well for the second half of the season. There are some big events coming up, among them the Barclay Singapore Open and UBS Hong Kong Open," said Chapchai.