Saltspring's Tibetan 'trumpet monk'
by Joanne Hatherly, Times Colonist, September 14, 2007
Musician felt spiritual connection to 'island of dreamers'
Saltspring, Canada -- He was an ordinary Saltspring Islander in that he liked to wear jeans or khakis with T-shirts, rose when the sun did, enjoyed muesli with yogurt and tea for breakfast, and felt a spiritual connection to his adopted island home.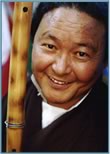 But Tenzing Tsewang lived anything but an ordinary life.
In 1954, Tsewang was born in a tent on Mount Kilash, and spent his early years on the Tibetan desert plateau, cradled among the world's tallest peaks.
The love child and first son of a young "Romeo and Juliet" nomad couple, Tsewang enjoyed a special bond with his grandfather, who was enraptured with the child who clung around his neck like a koala and became his constant companion.
Tsewang's life was changed when he was taken from his parents by his grandfather at the age of four, rolled in a carpet and strapped to the side of a yak to escape the growing threat of China's presence.
They fled to India, where his grandfather left him in the care of another family, then sent him to boarding school until at the age of 12 he entered the Nyamgal Tantric Monastery of the Dalai Lama.
There he was singled out for his musical gifts, and he received training in voice and chanting. He also studied Tibetan Buddhist philosophy, logic, meditation, sacred ritual music and Tantric dance.
By 1979, Tsewang (pronounced "say-wong" by his friends) had married and moved to Australia, where he worked the assembly line at a Honeywell factory, until he was moved to an administrative position. During this time, he and his wife had a son.
Through it all, he continued performing as a musician. In the mid-1980s, Tsewang was invited to a private audience with the Dalai Lama on one of the spiritual leader's visits to Australia. When Tsewang played the flute, the Dalai Lama recognized him as the one known at the monastery as the "trumpet monk," and encouraged Tsewang to move pursue his music career and the promotion of Tibetan culture.
On the strength of this, and the influence of Chogyal Namkal Norbu Rimpoche, a teacher from the Dzogchen monastery, Tsewang resigned from the factory and put his heart into his music, performing at large festivals and creating CDs. He co-created a one-man-play based on his varied life experiences, titled Hanging Onto the Tail of a Goat.
By 2005, with his first marriage ended, Tsewang visited friends on Vancouver Island. As he returned from performing at a Saltspring Island Artspring event, Tsewang experienced a vision telling him to make Saltspring his home. "He felt like he had found the island of dreamers where he belonged," says his widow, Kirsty Barclay.
Fellow musician and friend Daryl Chonka says, "As a musician, Tsewang was a person who bridged worlds, coming from a very interesting background as he did. He was very happy to communicate that ancient creativity and wisdom of his, using the most modern of technology. That's something that he expressed in his friendships. He was happy to make friends with anybody from any walk of life."
Jan Cornall, an Australian writer who met Tsewang at a Tibet Youth function in the early 1990's remembers him as "... handsome, laughing; as if lit with a glow," and as a master of hospitality whose tiny "shoebox" home overflowed with wine, food and friends.
In February 2006, Barclay was asked to arrange a music venue where Tsewang would be playing. When Barclay went into the studio, her attention was drawn to a Tibetan man across the room. He continued playing a flute as their eyes met.
"He was like a giant weather-front coming in toward me," recalls Barclay. A relationship began, but by the end of April, visa restrictions forced Tsewang to return to Australia. The pair met again in China that May.
They were convinced they were meant to be together. Tsewang proposed, but Barclay demurred. Still wounded from another relationship, she needed time to heal. Then on Feb. 16, 2007, one year to the day from their first meeting, Barclay said yes.
The two wed on June 9. They set up their home on Saltspring Island where Barclay had been raised. They decked their small island cottage in vibrant Buddhist prayer flags, colourful rugs, musical instruments and furniture built low to the ground. Tsewang was an avid home-chef, cooking lamb curry, hand-rolled noodles and mo-mo, a Tibetan food of ground yak meat and garlic chives wrapped in dough.
Through the summer, Tsewang's energy flagged. On his and Barclay's walks, he would sometimes crouch down on his knees and say he "felt weird in his chest." Having been through two rigorous check-ups that tested his heart function and that gave him a clean bill of health, the pair thought it was an old, minor respiratory complaint.
On Aug. 13, Barclay went out to a movie with her friends. When she returned home, Tsewang's truck was in the driveway, but the house was dark. Tsewang had suffered a massive coronary and collapsed on the walk up to the mail box.
"He was in the right position for his death meditation," says Barclay. "He was subtle; he had a very quiet, unassuming presence, but he also had a big laugh. He totally healed my heart and now he is on his way."
Those wishing to honour Tsewang's Tibetan roots are invited to contribute to Rhaka, a Tibetan school for nomadic children. Learn more at www.tenzingtsewang.com.