Buddhist Works to Escape Homelessness
BY Sarah Morrison, The Daily Californian, November 1, 2007
Berkeley, CA (USA) -- Once a self-professed "spoiled brat" with three family homes, Terri Hellerich chose to give it all up to pursue her Buddhist faith. But now, after three years of living among the homeless, her idealism is beginning to wane.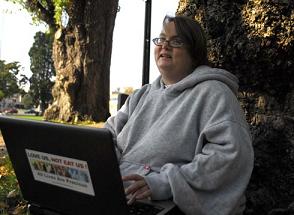 << photo/hannah lowe
Terri Hellerich, a local blogger, has been homeless for three years after giving up material comforts to pursue a Buddhist lifestyle. Hellerich is trying to achieve financial security.
Hellerich, a 35-year-old Berkeley City College student, lives in a local shelter and relies on money she receives from blogging to survive.
Without financial security or a home of her own, she cradles her trustworthy laptop and says, "Without the Internet, I would not be alive."
After growing up in the small town of New Baden, Ill., Hellerich worked as a market researcher and lived comfortably in her own apartment. However, the limits of her office job depressed her, and she began to look to Buddhism to find meaning in her life.
Hellerich was influenced by Buddhist Internet chat rooms, where conversations with nuns and monks inspired her to make a lifestyle change.
"Most people buy a car for their birthday," she says, "but I decided to give mine up along with everything else I had to follow my ambition."
By the end of 2001, Hellerich had left her family and friends to become a Buddhist nun in the Chinese tradition. She lived and studied for 18 months in The City of Ten Thousand Buddhas, a monastery in Ukiah, where she refused any contact from the outside world.
"I had no material resources when I arrived and I didn't touch money for the whole time I was living there," says Hellerich. "For a Buddhist though, it was like heaven on earth."
While Hellerich was spiritually satisfied for the first time in her life, acceptance from the Buddhist community was harder to attain.
"It was too difficult and I was so naive," she says. "I couldn't speak the language, was from a different culture and had no financial support. I was seen as a leech and an unworthy person."
Realizing these differences could not be overcome, Hellerich left the monastery. For three years she tried a handful of jobs in the Bay Area, trying to raise enough money to return to a Buddhist lifestyle. However, she found it difficult to work without compromising the values of her faith.
"When I worked as a sales rep, a woman with a screaming baby purchased over $200 of faulty goods on the phone," Hellerich says. "I worried that the bill might overdraw her or leave her without enough money for diapers. This affected my bottom line so I had to quit."
Now homeless and alone, Hellerich no longer feels she can refuse jobs and believes that something has to change.
"My first aim is to get out of the shelter and stay out forever ... and never go back," Hellerich says. "I want to help the world but now I have to think of myself."
Hellerich began writing blogs chronicling her daily experiences simply as a method of communication. But she has acquired a loyal following and earns money working on various Web sites.
"I need to capitalize on what I can do and the Internet is the only way I know how," Hellerich says. "I came here to be a Buddhist nun, but I can't do that, so I have to reprioritize." Hellerich's posts are available at dabeisyin.blogspot.com.
While Hellerich is intent on building up financial security, she says every compromise hurts her heart. After her own personal advancement, she hopes to spread positive karma in the community by helping Berkeley's homeless.
"Sometimes Berkeley streets seem like a war-zone," Hellerich says. "In Berkeley, there should be no reason for anyone to go hungry just because they don't have enough money."
Hellerich is currently studying Asian studies at Berkeley City College and wants to attain a bachelor's degree and become a professional teacher.
"My mom would be happy if I got more out of this than living on the streets," Hellerich says. "I need to get a degree for my mother to forgive me."
While she might not be able to practice her faith in the way she used to, Hellerich says it will always be important in her life.
"While walking down the street, I can see a flower or a little bug, which will remind me of my practice," she says.