His Majesty King Bhumibol Adulyadej devotes himself to his country and people
The China Post, December 5, 2007
Bangkok, Thailand -- Buddhism has been a defining force in His Majesty King Bhumibol Adulyadej's life, a bedrock faith that has guided him in his actions and enabled him to remain tranquil in times of stress.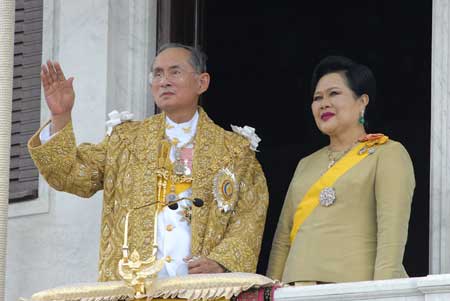 << His Majesty King Bhumibol Adulyadej and Queen Sirikit of Thailand. Being the longest reigning monarch in the world, His Majesty has relentlessly devoted himself to the development and well-being of the Thai people. (Photo courtesy of Thailand Trade and Economic Office)
As a practicing Buddhist monarch, His Majesty adheres to the Theravada form of Buddhism observed by 94.2 percent of the Thai population.
He endeavors to follow the Noble Eightfold Path defined as Right Understanding, Right Thought, Right Speech, Right Action, Right Livelihood, Right Effort, Right Mindfulness and Right Concentration.
These qualities are evident in his dedication to his people's welfare and the thoughtful way in which he listens to their needs and--in consultation with them and other officials--formulates, executes and follows up on his development programs.
When he was 29 (the same age at which Lord Buddha left his palace and embarked on his quest for Enlightenment), His Majesty sought to gain a more complete understanding of his faith by becoming ordained as a Buddhist monk. Prior to entering monkhood, he spoke of his enthusiasm about his impending ordination:
"From the training which I have received, as well as out of my own personal belief, it is my view that Buddhism is one of the great religions of the world. Buddhism comprises teachings to lead men to good conduct and is rich in veritable precepts that are logical, highly impressive, and inspiring. I have always entertained the idea of being ordained as a monk, in accordance with Royal custom, which would also be the traditional way of expressing gratitude to my august ancestors."
In 1956, he donned the saffron robes and entered Bangkok's Wat Bovornives to study Buddhist principles under the tutelage of the Supreme Patriarch. Like other monks in the kingdom, he rose before dawn each day and walked barefoot through the streets of Bangkok to receive alms (bintabaht) presented by the faithful lining the roads.
As his great-grandfather, His Majesty King Mongkut, had discovered, this simple ritual of alms-gathering put him in touch with ordinary people, something the seclusion of the palace did not provide. This, and his groundbreaking tour of the Northeast, brought him face to face with his people and exposed him to the tribulations they faced daily. The experience better prepared him for the task he had set for himself: to work to improve their lives.
Since leaving the monkhood, he has devoted himself to the realization of those teachings in his daily life. As the supreme patron of Buddhism, His Majesty King Bhumibol Adulyadej presides at numerous Buddhist ceremonies, including the changing of the robes of the Emerald Buddha to mark the progression of the three seasons of the year. In special years, he travels down the Chao Phraya River in a royal barge to present robes to monks at Wat Arun.