Tribute to His Eminence Drubwang Konchok Norbu Rinpoche
by Shen Shi'an, The Buddhist Channel, Dec 31, 2007
If on the one hand, we chant the [Mani] mantra and on the other hand, we eat the meat of another sentient being, then our words and actions do not tally with one another. - Drubwang Rinpoche
One of the greatest obstacles to the birth of Bodhicitta
in our minds is our craving for meat. - Shabkar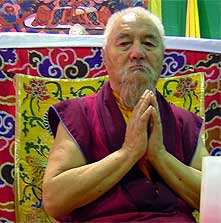 Singapore -- In his final years, the late great His Eminence Drubwang Konchok Norbu Rinpoche (1921-2007) repeatedly touched upon two teachings in his talks during the popular Mani retreats that he held. The first is the urgency of upholding the Mani mantra (Om Mani Padme Hung), and the second is the urgency of abstaining from eating meat.
At first glance, these seem to be unrelated subjects. However, they are closely linked indeed. The Mani mantra, if chanted well, invokes one's compassion. The more it is invoked, the more perfectly all-encompassing it becomes. It would include compassion for all animals too.
Compassion is important because it is seen as the root of all virtues in Buddhism. While compassion has to balance with wisdom, it precedes wisdom in priority. Even the seeking of wisdom for self-liberation is possible only when one has compassion for oneself. Without the perfect compassion of the Buddhas, who aspire to guide all beings to liberation, there would be no widely taught Dharma at all. Any other virtue, when lacking in compassion, renders it a fault too. Thus is the quality of compassion central and crucial.
Was helping out at the wake of Rinpoche (who passed away on 25th Dec 2007) yesterday (26th Dec). There was little grief on my part - because there is faith that he is a well-accomplished spiritual practitioner. His passing was peaceful too. Seeing what seemed to be thousands paying their final respects to him, there is rejoice at his great merits instead. With overwhelming compassion, surely, he is likely to re-manifest in Samsara to continue helping all beings, in one way or another. For great practitioners of the Bodhisattva path, when the body expires, there is the need to change a new one. It is as simple as that.
Despite being born in Tibet with scarce vegetation, Rinpoche was indeed courageous in going against the expected "rationale" that it is perfectly blameless for those practising Tibetan Buddhism to not try harder not to eat meat. There was simply nothing to gain on his part by speaking up continuously for the plight of animals going under the knife. It was out of pure compassion. Those of us who have seen and heard Rinpoche's heartfelt beseeching for retreat participants to go vegetarian will know what I mean.
Today, with the wide availability of more vegetarian options, Tibetan monasteries around the world are increasingly going vegetarian. Even His Holiness the 14th Dalai Lama, the spiritual leader of the international Tibetan Buddhist community, who once wrote a long life prayer for Rinpoche, strongly advocates the vegetarian cause. This is simply the way it has to be - for if even the leaders of Buddhism do not encourage compassion for voiceless animals, the heart or core value that is compassion would be lost. "Heart-less" then would Buddhist practice be - with the hypocrisy of wishing all beings to be well and happy while wishing to eat some of these beings. Vegetarianism is no must for all Buddhists, but surely, it ought to be mindfully considered.
At the wake, I saw some devotees shedding tears of grief. If we truly believe Rinpoche to be a liberated being, even before he passed away, then the truth is that there is no need to grieve for him. Perhaps, we should grieve for ourselves instead - to the extent that we have yet to perfectly practise what he taught - such as the two urgent teachings, as listed in the opening paragraph. We need to get over this grief though, to simply live the teachings. I see what seemed to be hundreds of khatas and flowers offered at his shrine. The offering of khatas symbolises the giving of goodwill, auspiciousness and compassion. The offering of flowers is to remind us of the reality of impermanence – to not be attached to Rinpoche too.
Surely, Rinpoche had already amassed great goodwill and auspiciousness with his compassion in action. Surely, he is already at peace with the impermanance of his body. All the khatas and flowers in the world would not be as great an offering, as the practising of what he taught. The way to truly honour his passing is to not let his teachings pass us by - to truly take his advice to heart, to truly practise what he preached, to truly spread the teachings that he taught. Surely, Rinpoche would rather one to uphold the Mani mantra, and to go vegetarian for life, than to make a one-time offering to him. May Rinpoche swiftly return to help more beings! Om Mani Padme Hung.