'Daughter of Dunhuang' carves out a career
By Zhu Linyong, China Daily, Jan 24, 2008
Dunhuang, China -- Fan Jinshi operates on a different time scale - she does not have much to do with the modern-day hustle and bustle.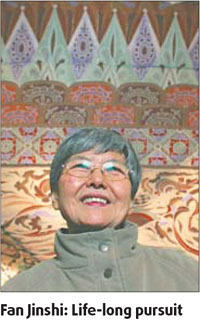 "Academic studies do not always yield immediate results that draw public attention," Fan says.
The 70-year-old president of the Dunhuang Academy has spent a remarkable 45 years on research and preservation of the 1,600-year-old Dunhuang Mogao Grottoes in Gansu province.
To become an outstanding scholar, one has to spend years in toil and solitude, the acclaimed "Daughter of Dunhuang" says.
And after all these years, her eyes still sparkle when she looks at the exhibits brought to the National Art Museum in Beijing. In the artifacts, she sees the difference that her team's efforts have made.
Lights of Dunhuang, which opened on Tuesday, is the largest exhibition of its kind in 60 years. It presents at least 10 replica Dunhuang Mogao Caves, nine authentic ancient Dunhuang Mogao figurines and 13 copied works, 10 ancient Dunhuang Mogao floral bricks, as well as 10 ancient manuscripts from the Library Cave and 120 quality copies of the Dunhuang Mogao murals.
"With this exhibition, we intend to offer visitors a glimpse of the splendid ancient Chinese culture," Fan says.
"More importantly, we hope to raise public awareness of the daunting task of preserving the caves and murals."
The Dunhuang Mogao Grottoes feature at least 490 cave temples, which were carved into a cliff face about 24 km outside Dunhuang between the 4th and 14th centuries.
The temples are covered with elaborate Buddhist murals, portraying visions of heaven and earth in ancient China. Since they were first discovered early last century, human and natural inflictions have been the biggest challenges faced by preservationists.
Since 1998, when she was elected president of the 64-year-old academy, Fan has launched a series of long-term measures to help better protect, conserve and promote the Dunhuang Mogao Grottoes, a World Heritage Site since 1980.
Fan oversaw the establishment of a digital system which monitors changes in humidity and temperature in all the caves with murals and figurines.
To slow the influx of visitors to the ancient site, the academy has been developing a visitor centre near the original Dunhuang Mogao Grottoes.
It features an interactive, multi-media Dunhuang project, documentary screening rooms and high-fidelity duplications of the caves.
"Alongside academic research, preserving the caves and prolonging their lifespan is our top priority," says Fan, who has also been a key editor of papers, books and publications on Dunhuang over the years.
Through international cooperation and training, Fan has fostered a strong group of researchers and technicians who conduct interdisciplinary scientific projects.
Of the more than 260 researchers and conservationists at the academy, about 90 percent are aged between 30 and 50.
"Today, the working and living conditions are much better than they used to be."
Fan began working at the academy in 1963, when she graduated from the Archaeological Department of Peking University.
"Back then, there wasn't even a decent toilet for ladies," she says.
For more than two decades until 1986, she lived and worked at Dunhuang, far from her husband, two sons and her parents in Wuhan, Hubei province.
"But the longer I've stayed, the deeper my love has grown for Dunhuang, a lonely oasis in the Gobi Desert.
"That may explain why I've ended up being there for so long." Fan says.