Spiritual Father of The Bride
By NONA WALIA , Times News Network, January 9, 2005
In an exclusive interview with Delhi Times, spiritual leader Robert Thurman talks about his famous daughter Uma & the essence of happiness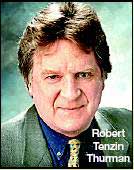 << Robert Tenzin Thurman
Ever wondered how Hollywood actress Uma Karuna Thurman got her Sanskrit name? Well, who better to answer that than the Hollywood star?s father Robert Tenzin Thurman.
??Uma means the bright one. Sanskrit is a beautiful language.I learnt Sanskrit when I visited India. When I was 23, I took off with some of my mates to drive across India on motorbikes. I met the Dalai Lama when he was just 29. I became the first American to become a Buddhist monk. Later, I met Uma?s mother Nina. I?ve brought Uma with me to India when she was 1 and 11. She lived with us in India for two years. Six years back, when she became an actress, she returned to India.Though I visit India every year to meet the Dalai Lama, Uma?s really busy. We?re really influenced by Indian culture. I believe the roots of Western culture lie in India,?? says Robert.
Dharma-thumping, karmatalking Robert is a professor of Indo-Tibetan Buddhist Studies at Columbia University and also a celebrated spiritual leader. In 1997, he was listed by Time magazine among the 25 most influential men in the US. Along with Richard Gere, Robert ? who?s been on Oprah Winfrey?s show ? founded Tibet House in New York. Robert recalls how he returned to the US with a shaved head and maroon robe: ??Recently, after seeing a photo of me in my monk phase, Uma said: Oh, look at daddy; he looks like Henry Miller in drag.? That phase lasted about a year.??
Uma Karuna Thurman >>
Cognitive dissonance is Robert?s way of life. A prolific translator, a powerful advocate for the liberation of Tibet, and the Dalai Lama?s cultural liaison with America, he has emerged as the most visible and charismatic exponent of Tibetan Buddhism in America.
So what?s the essence of happiness? ??We?re striving too hard for a perfect world, perfect relationships, perfect selves. We?re lost in our material pursuits. Then there?s this paranoia that we might lose everything ? that?s giving us stress and pain. We?re trained to become workaholics, we?re programmed that way. That?s wrong. We must value the good moments. Remember, life is infinite. We?ll be born again and again. We must value the good moments. We should be satisfied. Let?s find our blessings. When a tsunami strikes, you realise how imperfect life is. Life is fragile.??
As Robert talks of his pilgrimages to Dharamshala, his daily meditation and yoga, he reveals what the Dalai Lama means to him. ??He was 29 when I first met him.He was almost a boy then. And I?ve seen him develop enormously. There?s a very humane side to him.??
The theory of karma, suffering, and life after death is juxtaposed in Robert?s book Infinite Life, in which he warns of the consequences for ourselves, here and now, and after we are gone. ??When someone dies, you pray that he has a better life in his next birth. We must cultivate the positive. The transitory phase after death and before rebirth is when you need prayers for better destiny.??