Famed poet's work on show in Bangkok, Thailand
by ANCHALEE KONGRUT, PHOTOS BY PAWAT LAOPAISARNTAKSIN, The Bangkok Post, Feb 22, 2008
Angkarn's poems, drawings reflect a unique Oriental spirit
Bangkok, Thailand -- The framed documents are worn with time. The exquisite handwriting is curved with delicate swirls like antique lettering, but while the paper makes it look like some ancient scripture, the content belies this.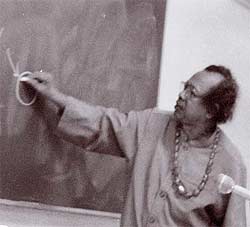 << A file photo shows Mr Angkarn in an art class.
"You use Western psychology to analyse my poems and conclude that I ... Angkarn Kalyanapong, am subconsciously a masochist. My world view is guided by Buddhism. I have the Oriental spirit. As a Buddhist I am perfectly level-headed."
Another document reads: "The poem I Lost You illustrates Eastern philosophy that love is a source of suffering. The man described in the poem vows to pay the price of love by living in torture to punish himself for falling for the wrong woman."
These are letters the poet wrote to a female scholar who wrote a thesis about his famous works. These documents are part of more than 100 items by Mr Angkarn, a national artist and SEA Write poet, which are on display at the Silpakorn University art gallery from Feb 9-29.
The exhibition celebrates his 81st birthday.
It comprises Mr Angkarn's drawings, paintings and poems in his own handwriting - all from private collections, including some from the artist's personal collection.
He is one of the country's most highly rated poets. His poems are included in school text books along with great poets from before his time.
His talent is not confined to literature. As an art student at Silpakorn University his paintings and sketches - most featuring traditional Thai patterns and boundless imagination - won him admiration and are sought after by art enthusiasts.
But what really makes this poet-artist unique are the messages in his works.
While his rhythms and rhymes are in traditional format, the messages reflect his frustration and criticism of social and political problems, environmental issues and, most of all, the moral degeneration of Buddhist society.
"He is not just a well-versed poet," said Chetana Nagavajara, a respected scholar of literature. "Reading him is a real morale booster and that is what we need from our contemporary poets ... because we rarely get it from our monks, even senior ones," Mr Chetana said at the opening of the exhibition last week.
At 81, Mr Angkarn remains active. He keeps up with current events and reads many newspapers - with the help of a magnifying glass. He still writes poems and paints. And he still recites poems, not only his own works but from some of the great works he has read since he was young. His talk is punctuated with poetic words and analogies.
On politics, he said: "We are living in Ayutthaya during the downfall. But it is Ayutthaya without King Naresuan the Great or King Taksin the Great. No leaders have that kind of heart and guts. Thus, our country is adrift."
Despite his literary stature, Mr Angkarn is a humble soul and is tired of being asked for autographs - something M.R. Kukrit Pramoj once described as a "work of art".
"People overvalue a signature over content and ideas," the poet said.
But when he does sign his autograph, he creates a work of art. "It takes time to sign an autograph," he said, as he slowly penned his rotund script.
"Signing autographs takes time because I have to recite Buddhist sermons that bless the recipient as well."
When asked about the reading and writing habits of the new generation, the poet reserved comment.
"I do not know them [the new generation] enough to judge them. It is as if I was born a mangosteen or a durian. So I am not in a position to comment about rice."
He was modest about his exhibition at Silpakorn University art gallery.
"It is a reminiscence of my knowledge. It is like fireflies which give off light. Anyone who sees it may be able to make use of it," he said.