A refocused k.d. lang is playing it straight
By LEN RIGHI, The Morning Call, Feb 26, 2008
Allentown, PA (USA) -- It may come as a surprise to her fans, but k.d. lang is playing it straight, both on her new album, "Watershed," which she produced, and her latest tour.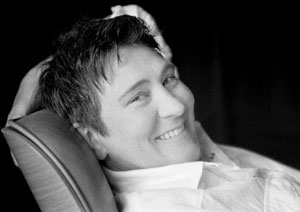 << K.D. Lang is playing it straight, both on her new album, "Watershed", which she produced, and her latest tour.
"Watershed," the four-time Grammy winner's first album of original material since 2000's "Invincible Summer," is lean, low-key, introspective and very often compelling - superior contemporary singer-songwriter fare dabbed with oblique touches of country and cabaret, but a far cry from the drama and flamboyance of her most famous work.
And her stage show? "It focuses on songs and singing," she says during a 10-minute chat from Los Angeles. "It's really about the music."
A far cry from her 2000 show, when lang appeared in an oversized wedding gown with built-up bust, a brown bouffant wig piled high with curls and jewelry dangling everywhere, bubbles filling the stage from both wings, Lawrence Welk style. (She eventually stripped off the dress, wig and accessories, proclaiming, "A girl can suffer for her art only so long.")
Over the last eight years, lang has struggled with writer's block, brought on partly by the Sept. 11 attacks.
"That sure made me rethink and wonder what the purpose of pop music was," says the 46-year-old performer. "Then, Tony Bennett said, `Let's make a Louis Armstrong record (the Grammy-winning duets album `A Wonderful World').' That took the heat off me for a while. I toured behind that for about a year.
"When I came home, I wasn't feeling ready to commit to another (k.d. lang) record. So I did (2004's) `Hymns of the 49th Parallel' (a covers album of songs by Canadians such as Joni Mitchell, Neil Young and Leonard Cohen) and toured behind that for a year. In 2006, after `Reintarnation' (a reissue of some of her early cowpunk material) was finished, I started focusing on `Watershed.'"
There also were other significant changes in lang's life during that time. Seven years ago, she became a Buddhist after meeting Lama Chodak Gyatso Nubpa, an associate of the Dalai Lama who leads a Tibetan Nyingma Buddhist center in L.A.
Lang, now a board member of the center, was introduced to Nubpa by Jamie Price, the woman who has been her partner for the last six years. The women live with lang's two dogs in a Beverly Hills home once owned by Rock Hudson. (In 2000, lang was involved with Leisha Hailey, the actress who inspired "Invincible Summer" and now appears as wise-cracking journalist Alice Pieszecki on Showtime's "The L Word.")
Lang's interpretive skills animate several "Watershed" tracks. Arguably, she is at her best on the languorous ballad, "Once in a While," which balances and meshes several irregular musical movements as lang makes not only promises of love, but the occasional craziness that accompanies it.
"It's about a relationship you wouldn't predict would work, `a love beyond reason,' something so left of center you're surprised by it," she explains. "There are expectations in all things, and no matter who I fall in love with, my quirkiness and my little quirks are going to happen (laughs). I can't promise a perfect track record."
The emotions articulated on "Thread" are expertly entwined, too, as she struggles to find a way to negotiate with a lover before simple disagreements mushroom into unresolvable quarrels. "I had you in my web, now here I am hanging by a thread," she laments.
"It's a negotiating song when you're heading down Relationship Road," offers lang.
Then there is the sprightly "Coming Home," which blends strings and triangle with a touch of twang guitar and banjo picking, and proposes that love opens up new horizons. "It's about finding oneself through others, whether it be a lover or other things, finding a comfortable place," says lang.
Perhaps the most unusual track is "Jealous Dog," with its plucked banjo, cooing background vocals and lang spinning a dreamy, three-part fable.
"It's really sort of a little journey into different aspects of jealousy," she says. "The first one is about material things, the perfect lifestyles of the rich and famous that make you feel you're not adequate.
"The second is looking for support from faith-based religion, going through different hypocrisies, and if you don't fit you're not welcome. That's a kind of jealousy that is more aggressive and protective.
"The last is actually a celebration of someone I know who is very elegant and appreciates every single thing he has.
"So the moral of the story is to really, really soak up every ounce of life that is given you."