Paul Hemming: Owner of Zen Compound is 'living the dream'
by Michael Powell, The Examiner, Feb 29, 2008
San Francisco, CA (USA) -- Freshly returned from a recent trip to India, where he had helped create a Buddhist temple with the organization Partnership for Change, Paul Hemming said that he is "blessed."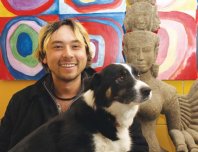 << Paul Hemming, who just visited India, has opened the Temple Nightclub and Prana Restaurant as part of his Zen Compound.
(Mike Koozmin/Special to The Examiner)
"I'm living the dream and doing what I want to do," he said, full of energy and smiles as he introduced his border collie, Nietzche.
Part of that dream is the September launch of the Temple Nightclub and Prana Restaurant, both part of his Zen Compound, which also includes Zen City Records. The club and the restaurant, both elaborately decorated with large LCD screens and museum quality Buddhist statues, are a fusion of Hemming's lifelong interest in Eastern philosophy and his love for music.
"My dad is Mormon and my mom is Buddhist and now I'm opening a club called Temple where music is the religion," Hemming said. "What I try to do is fuse the West and East and merge ancient religion with modern technology."
"Prana" means "breath of life" in Hindi, one of the native languages of India. The restaurant has an eclectic array of dishes, with staples of Indian cuisine such as naan, a buttery flatbread, and the more Californian grilled halibut with grilled pineapple salsa.
Like many Bay Area residents, Hemming says he has a long-standing interest in combating global warming and living an environmentally friendly lifestyle.
"Four years ago, I thought wouldn't it be good to have a club run on renewable energy," he said.
To implement that idea, Hemming is serving drinks in biodegradable cups, donating unused grease to be used for biodiesel.
He said has also laid out wind turbines and solar panels to generate the club's energy and decorated the front entrance with indigenous plant species.
Prana restaurant and Temple Nightclub are the fruit of Hemming's passions, and not simply the result of an expansive pocketbook.
"I've used my own money and I hit everyone I knew," he said. "I'm millions of dollars in debt but I talk a good game."
For more information, visit Prana Restaurant's Web site at www.pranasf.com or Temple Nightclub's Web site at www.templesf.com.