Mandy Moore strives to avoid stardom's pitfalls
by Will Keck, USA Today, March 11, 2008
Los Angeles, USA -- Mandy Moore has never been in jail. Never been photographed without her panties. And has never even been involved in a catty war of words with another starlet.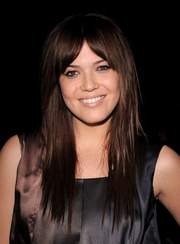 << "I won't ever do men's magazines," says Mandy Moore. "It's not something I feel comfortable with. I don't understand what you're selling or what I would get out of it." AP PHOTO
Going that route, she says, was never an option.
"It's very important for me to surround myself with good people who are good examples," says the singer/actress, 23, who doesn't include other actors as her closest friends. "Unfortunately, there are bad people in this world."
Except for an occasional glass of wine, Moore hardly ever drinks alcohol because she hates the thought of losing control, and she says she has never been exposed to drugs.
"Maybe I'm completely unaware," she says. "I've been drunk very few times in my life, and I feel like I live in a bubble because I have never seen drugs at a party before -- like someone doing a line of cocaine.
"Quite honestly, I don't want to be around it, which is why I'm not a big 'going out' person. I'll have dinner at like 6, and I'm in bed by 8:30."
In keeping with that spotless image, Moore has turned down offers to appear in sexy skin magazines such as Maxim.
"I won't ever do men's magazines," she says. "I would never judge someone else for doing it, but I don't understand the point of putting myself out there, as a woman. It's not something I feel comfortable with. I don't understand what you're selling or what I would get out of it."
After releasing a 2007 album ("Wild Hope") and starring in three films in a row ("Dedication", "Because I Said So" and "License to Wed"), the self-described workaholic felt drained and out of touch with her sense of self. Now committed to pursuing goals outside show business, Moore has partnered with Crystal Light's uPumpItUp.com, where she encourages other young women to set and achieve personal goals.
"We get so caught up with our lives that we often neglect ourselves," Moore says. "It's important for me to seek what else is out there."
She has been writing songs and poetry, practicing the guitar and taking lessons on the piano she just purchased for the music room she recently put together in her home.
And Moore, who was raised Catholic, has "dipped my toe in the water of studying
Buddhism." That has involved multiple visits to a Buddhist meditation center, where she has participated in group meditations while both sitting and walking.
Describing herself as "painfully shy" and "pretty anti-social," Moore doesn't have a
huge community of friends on the West Coast, as she does in New York.
Currently single, Moore looks back at her colorful collection of exes (Wilmer Valderrama, tennis pro Andy Roddick and "Scrubs"' Zach Braff) as "very different. I certainly don't have a type, that's for sure."
What she really wants at the moment is a new puppy to join her on hikes, but if a man should come along, her wish list of traits would include: "a strong sense of self, very moral, honest, close to his family and with a good sense of humor."