Tiger Woods on being a dad and Buddhism
By Simon Evans, IOL, March 27 2008
Los Angeles, USA -- Golf is famed as a frustrating sport but world number one Tiger Woods has found striking the right balance between family and work to be every bit as challenging.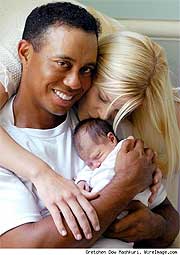 "It is frustrating," Woods told Reuters in an interview.
"This morning Sam was crying when I left. That is only going to get harder, especially when they start talking, when they get in school," he said, adding that golfers find it particularly tough to carry out their roles as fathers.
"A lot of guys, early on in their child's development, try to take them on the road with them so they can be a part of that development - but once they are in school it is a whole different story then," he said.
While winning seven tournaments in succession through a six-month unbeaten streak, Woods has also been changing his daily routine to allow him the maximum possible time with his daughter Sam and Swedish wife Elin.
"I try and get my workouts in before Sam or Elin gets up, I go to the gym really early in the morning and get my lifting in and get my cardio done and come back and have breakfast with them.
"Then maybe a little walk and then right when Sam takes a nap I can go out and practice. I don't want to miss anything, she changes every day," he says.
Woods relishes talking about his daughter but confesses he has been surprised by fatherhood.
"I never thought that I would feel this way. You hear parents say it all the time, but you really don't know until you actually go through it," he said.
"I can't imagine missing anything. When we go on the road we have Skype so I will talk to her and see her and...I don't know how guys did it in the past, technology certainly helps."
The challenge of organising his life, which also includes commercial commitments to sponsors such as Gillette, hasn't weakened his desire for a larger family.
"I want to be around as much as I can at home and especially since we are going to have more kids it is going to be even more difficult down the road," he says.
Missing from Woods's description of his daily routine is meditation - learnt from his Buddhist mother and one element of a religion that shapes much of his attitude to life.
"I practice meditation - that is something that I do, that my mum taught me over the years. We also have a thing we do every year, where we go to temple together," he said.
"In the Buddhist religion you have to work for it yourself, internally, in order to achieve anything in life and set up the next life. It is all about what you do and you get out of it what you put into it.
"So you are going to have to work your butt off in every aspect of your life.
"That is one of the things that people see in what I do on the golf course but that is just one small facet of my life - I am always continuing to work," said Woods who credits his late father Earl and Thai mother Kultida for his winning combination of aggression and control.
"If you look at my parents - my Dad was a former special forces, he was a pretty tough guy, very focused but I have to say the more competitive one was my mum," he added.
"You start talking to her and you will see where I get my fire and passion from - it is from my mum - I get my calmness from my Dad," he said.
There are no signs that his mother is about to let that passion cool - Woods said she remains animated when watching him play.
"She still lives and dies over every shot. I just say 'Mum, relax, I know what I am doing.' She says to me - 'you'll know what I am talking about when Sam gets older'"