A scientific approach to religion
By Chai Mei Ling, The New Straits Times, May 18, 2008
Kuala Lumpur, Malaysia -- HE was a doctor for 10 years when he decided to renounce all things worldly in life to become a monk at the age of 38.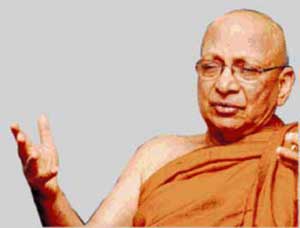 << Reverend Punnaji says there's a correlation between scientific thinking, western psychology and Buddhism.
Reverend Punnaji started meditating when he was five years old, wanted to become a monk when he was seven, and knew he would become one when he was 17.
Growing up in Sri Lanka under his mother's religious upbringing, Punnaji became interested in Buddhism at an age when children were just starting school.
However, due to his parents' wishes for him to do well academically and also his interest in science, Punnaji studied medicine and eventually became a general practitioner.
After a decade in practice, the deeply religious medical officer decided to hang up his coat and put on a saffron robe, passing all his belongings to his sister in the process.
He attributed the decision to his mother's influence, the monks he met and the Buddhist teachings he read.
"After I renounced everything, I came out of hell. Everyday life is full of suffering and unhappiness. As a monk, I don't experience these."
"It's something a layperson will find hard to understand," he says.
When he retreated to a meditation centre in a forest once, his friend visited him and asked why he wanted to suffer in such a place.
"I told him I was having the happiest time of my life. He couldn't understand.
"Meditation allows one to give up sensual pleasures, purify the mind and experience true happiness," says Punnaji.
Today, the 78-year-old senior resident monk in the Maha Vihara Temple in Brickfields is in charge of training young monks.
He plans to teach them ways to examine Buddhism from a scientific view.
"Buddhism, in its original form, is not at all opposed to science.
"There's a correlation between scientific thinking, western psychology and Buddhism.
"I can show that the teachings of Buddha can be spoken in modern terms, not only mythical."
A most sacred day for Buddhists
WESAK Day is the most sacred and thrice-blessed day for Buddhists throughout the world.
This is because it marks three significant events - the birth, enlightenment and passing of Gautama Buddha.
Buddhist Chief High Priest of Malaysia, the Venerable Chief Rev K. Sri Dhammaratana, said Wesak, or Vesak, is the name of the lunar month that usually falls in May.
"This year, besides paying homage to Buddha, I want to encourage devotees to fly the Buddhist flag in their homes."
Sri Dhammaratana said the internationally-recognised flag has six stripes, which when combined, signify the rays of the aura that emanated from Buddha's body when he attained enlightenment under the Bodhi tree.
"There are five vertical stripes in blue, yellow, red, white and orange. These stripes represent eternal world peace.
"The sixth stripe, on the right end of the flag, is actually a compound or mixture of the five colours staked on top of each colour. The final stripe stands for all races in the world living harmoniously.
"All colours collectively symbolise the perfection of Buddhahood and the Dhamma."
Did you know?
- Wesak or Vesak, which is celebrated on May 19, 2008, is known as: Visakh Bochea in Cambodia; Visakah Puja, Buddha Purnima or Buddha Jayanti in India, Bangladesh and Nepal; Visakha Bucha in Thailand; Phat Dan in Vietnam; Waisak in Indonesia; Fó Dàn in Chinese-speaking countries; and, Saga Dawa in Tibet.
- Wesak Day is a public holiday in Malaysia, Cambodia, Sri Lanka, Myanmar, Thailand, Singapore, Vietnam, Indonesia, Hong Kong and Taiwan.
- Although a centuries-old tradition, the decision to celebrate Wesak as Buddha's birthday was formalised only at the first conference of the World Fellowship of Buddhists held in Sri Lanka in 1950.
- May 2007 had two full moon days, on the first and last days of the month. Some countries (including Sri Lanka, Cambodia and Malaysia) celebrated Wesak on May 1, while others (Thailand and Singapore) celebrated the holiday on May 31.