Leonard Cohen: Out of the monastery and back on the road
By Simon Worrall, The Independent, June 15, 2008
The womanising, the four bottles of wine a day and the five-year retreat in a Buddhist monastery are all behind him. This week, Leonard Cohen embarks on his first British tour for 15 years. And the former poet laureate of despair might even be singing with a smile on his face...
Manchester, UK -- On Tuesday a spry 73-year-old man in a double-breasted suit and fedora will step on to the stage at the Manchester Opera House. For those of us in Britain who love his music, this moment will be both an epiphany and a relief.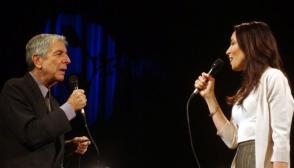 << Cohen sings with his partner Anjani Thomas last year © AP
It is 15 years since Leonard Cohen last toured – after four nights in Manchester, he'll play several more dates in the UK this summer, including the O2 Arena and the Glastonbury Festival. And, like millions of other fans, I had come to believe that he had hung up his Spanish guitar and Jew's harp for good. But now the man who gave us "Suzanne" and "Hallelujah" is on the road again – or, in the words of one of his recent songs, "back on Boogie Street". The rasping voice, scorched by a million Marlboro Lights, is deeper. The vocal range is narrower. But none of which matters to his fans, who will just be pleased to see him performing again.
Much has distracted him from music. Cohen spent most of the 1990s in retreat at a Zen Buddhist centre in California. Then in 2005, following a return to recording, he discovered that his manager had run off with almost all of his fortune. No wonder that, at the opening concert of his world tour in Canada last month, he was given a three-minute standing ovation before he had even sung a single note.
I was a teenager in the late 1960s when I first heard a song by Leonard Cohen. Something about his voice and his lyrics chimed with the way I felt at the time. Later, while studying English at Bristol University, I would send my friends screaming from the room by picking up a guitar, well past midnight, and singing "Famous Blue Raincoat", Cohen's haunting song about a love triangle. "It's four in the morning, the end of December/I'm writing you now just to see if you're better."
Since then he has dipped in and out of my life. My ex-wife and her then-husband, the documentary film-maker, DA Pennebaker, spent three weeks with Cohen on the island of Hydra in Greece, researching a film about him. The film never got made but the visit yielded three contact sheets of grainy, black-and-white stills showing a tousle-haired young man eating olives and drinking Ouzo with Marianne Ihlen, the Norwegian muse of one of his most famous songs.
Then, this spring in Los Angeles, I found myself cooking dinner for Cohen's friend and collaborator Sharon Robinson (see box, overleaf), one degree of separation from my boyhood idol.
Though Cohen spent many years in sunny places, such as Hydra and California, in his soul it always seemed to be winter. He became known as the poet laureate of despair, the godfather of gloom. Cohen himself joined in the fun, quipping to a reporter that his CDs should come with razor blades.
The source of the melancholy and spirituality that flows like an underground river through all of his work is his Jewish upbringing in Montreal. He was 10 years old when the horrors of Auschwitz broke over the world and, while he has seldom talked about the subject, one can reasonably assume that it had a deep and lasting impact. His maternal grandfather was a prominent Talmudic scholar. His father, Nathan, was a wealthy clothing manufacturer who died when Cohen was just nine. His mother, Masha, was a Russian Jew from Lithuania, from whom Cohen inherited his love of song and poetry. His sister, Esther, still lives in Montreal.
From infancy, he was steeped in the rituals and language of the synagogue. "I think I was touched as a child by the music and the kind of charged speech I heard in the synagogue, where everything is important," he recalls."I always feel that the world was created through words – through speech in our tradition – and I've always seen the enormous light in charged speech and that's what I've tried to get to."
He never intended to be a singer and performer. He wanted to be a proper writer, like his boyhood heroes, Byron, Yeats, Sartre and Camus. And, above all, to be like the Spanish ' poet of love and war, Fernando Garcia Lorca, after whom he named one of the two children he has had with the Los Angelean artist Suzanne Elrod. (Elrod, incidentally, was not the Suzanne who brings him tea and oranges in the famous song. That was Suzanne Verdal, the wife of one of Cohen's Montreal friends in the 1960s.)
His 1956 book of verse, Let Us Compare Mythologies, established him as one of the most important new voices in Montreal's English-speaking literary scene. (The song "To a Teacher", on his latest album, Dear Heather, is dedicated to one of his early mentors, the Canadian writer AM Klein.) He went on to publish two novels: The Favourite Game in 1963 and Beautiful Losers in 1966.
Having learned to play the guitar as a teenager, Cohen formed a band called the Buckskin Boys at Montreal's McGill University. But he freely admits that he became a singer because he couldn't make a living as a poet. At his first major performance, with folk-singer Judy Collins at an anti-Vietnam concert at New York's Town Hall in 1967, his guitar was out of tune, his voice was a hoarse whisper and he suffered a paralysing attack of stage fright. But by the end of the evening he had conquered the crowd. A record contract with Columbia followed and Cohen soon found himself at the epicentre of 1960s New York. He lived at the Chelsea Hotel, hung out with Warhol and his Superstar, Nico, Baez, Dylan and Janis Joplin (who famously gave him head on an unmade bed).
"I had a great appetite for the company of women," he has said of that time. "And for the sexual expression of friendship, of communication. And I was very fortunate because it was the 1960s and it was very possible."
Yet, by the middle of the following decade, the tortured love celebrated in his songs was starting to sound tired. Misery was out. Disco was in. His 1977 album, Death of a Ladies' Man, which traded on his reputation as a Lothario and which Cohen recorded with another fading legend, Phil Spector, seriously misjudged the changed cultural mood. It was more than a decade until Cohen really hit his stride again with the 1988 album Various Positions, which contained one of his best known, and most covered, ballads, "Hallelujah".
But, although he began to sell more records than ever before and had gained a new generation of fans, his life was spinning out of control. He needed three or four bottles of wine per day to stop his knees from knocking on stage. His health was breaking down. His love life was a train wreck. And so, in 1994, following a tour to promote his latest album The Future, he sought sanctuary in the Mount Baldy Zen Buddhist monastery in the rattlesnake-infested San Gabriel mountains behind Los Angeles.
Cohen had been a regular visitor at the monastery for more than a decade, sometimes spending three months at a time there. But this time it looked as though the world had lost him for good. He shaved his head, donned black robes and devoted himself to the study of Zen Buddhism.
"I wasn't looking for a religion," he says. "I already had a perfectly good one [his Jewish faith]. And I certainly wasn't looking for a new series of rituals. But I had a great sense of disorder in my life, of chaos and depression, of distress. And I had no idea where this came from. The prevailing psychoanalytic explanations of the time didn't seem to address the things I felt. Then I bumped into someone who seemed to be at ease with himself and at ease with others..."
That someone was Kyozan Joshu Sasaki Roshi, the monastery's founder. Cohen became his cook, driver and late-night sake-drinking buddy. A special dispensation allowed him to get up earlier than the rest of the monks so he could brew coffee and smoke a few Marlboro Lights. In 1996, Sasaki gave him the monastic name Jikhan, meaning "silence".
For someone as wedded to words as Cohen, and so fond of talking, it seemed an ironic choice. But he didn't stop expressing himself as an artist, steadily filling a pile of little green notebooks that would eventually yield a golden harvest of new work. In a poem called "Titles", from his latest collection of verse, Book of Longing, Cohen describes ' his time on Mount Baldy, where he ended up staying for five years until 1999: "For many years I was known as a Monk/I shaved my head and wore robes/and got up very early/I hated everyone/and no one found me out."
Elsewhere, he has called himself The Useless Monk. "I felt it wasn't doing any good," he recalled in a recent interview. "It wasn't really addressing this problem – distress – which is the background for all my activities, feelings and thoughts. It was a lot of work for very little return."
Cohen says that his experience on Mount Baldy strengthened his Jewish faith, which he has described as a "4,000-year-old conversation with God and his sages". Yet, no sooner was he back in the world than he had to deal with the devil. A year after leaving the monastery Cohen was accusing his long-time manager, Kelley Lynch, of defrauding him of more than $5m. After 30 years' recording and performing, he was had been left with just $150,000. In 2006, he was awarded $9m in a civil lawsuit but so far Lynch has ignored the verdict and Cohen may never see the money.
Cohen has reacted to what he has called "the oldest story in Hollywood" with a typically Jewish fortitude. "It's enough to put a dent in your mood," he said, "but I was still eating every day; I had a roof over my head. I don't have the savings, that security I used to have, but I live the same kind of life. So, except for the hassle of dealing with lawyers and forensic accountants and tax specialists, the actual blow was not that severe."
Now in his eighth decade, the singer of what he recently referred to ironically as "a lot of Jew-sounding songs in different keys" is back at the top of his game. He has just finished a new album, to be released later this year, his third since 2001's Ten New Songs. Book of Longing has been well received. Cohen is also finally getting recognition for the paintings and drawings he has been producing since childhood.
And something else happened on Mount Baldy. The black dog of depression, "a kind of mist, a kind of distress over everything", which had dogged Cohen throughout his life, finally released its hold. Senescence appears to have brought serenity and a new contentment with the simple things of everyday life. When not working, the man who took Manhattan with 1960s hell-raisers such as Janis Joplin and Lou Reed can be found preparing matzo-ball soup in a pair of slippers and a suit at the modest house in a middle-class suburb of Los Angeles he shares with his daughter Lorca and several dogs. His son, Adam, a folk-rock singer like his father, is across town. His partner, the Hawaii-born singer, Anjani Thomas, lives down the street. Cohen has also gone back to his roots and now spends half a year in his native Montreal.
"I feel tremendously relieved that I'm not worried about my happiness," he says. "There are things, of course, that make me happy: when I see my children well, when I see my daughter's dogs, a glass of wine. But what I am so happy about is that the distress and discomfort has evaporated."
As Cohen himself might well sing a few times this summer, hallelujah.
For more information on Leonard Cohen's world tour, go to www.leonardcohen.com. Simon Worrall is the author of 'The Poet and The Murderer' (Fourth Estate, £7.99)